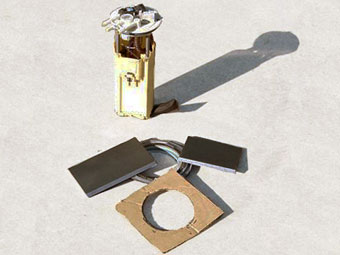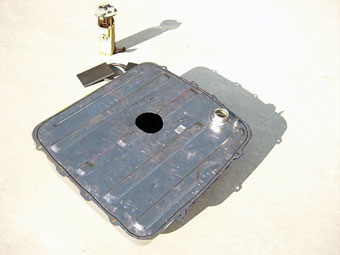 Installing an In-Tank Fuel Pump
as published in BritishV8 Magazine, Volume XVI Issue 2, October 2008
by: Kelly Stevenson
In this article I'll describe how we installed an in-tank fuel-pump in my MGB. The conversion of my 1978 MGB tourer to Ford 5.0L V8 power was initially completed in May 2005. From the beginning, my conversion featured electronic fuel injection, but the initial installation featured an external fuel pump. That external fuel pump worked, but there are significant advantages to moving the fuel pump into the fuel tank. Most modern OEM installations have in-tank fuel pumps because they're quieter. They're also usually less susceptible to supply problems when the fuel level is low and when fuel is sloshing around during spirited driving.
Obviously, fitting an in-tank fuel pump requires cutting into the tank. I suppose the traditional approach might be to cut and weld, but I believe it's best to start with a brand-new tank and to preserve its modern, corrosion-inhibiting coatings by soldering instead of by welding.

After shopping around, I ordered a new "Spectra Premium" 1977-80 spec MGB fuel tank from an eBay merchant. The cost for the tank, including shipping, is about $189. (Note: 1977-80 fuel tanks are most easily identified by their short, straight-up, fuel-fuller inlet.)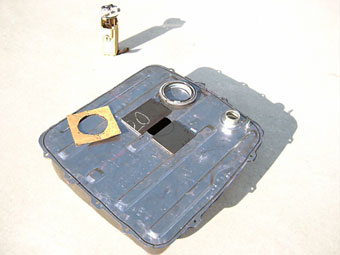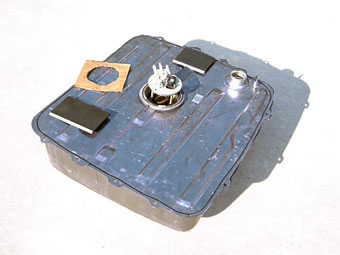 Editor's Notes: Spectra Premium Industries' MGB fuel tanks are made in Canada from U.S. Steel's "Ni-Terne" material. The annealed cold-rolled steel sheet is first processed to apply a thin flash coating of electrodeposited nickel, and then it's given a hot-dip lead-tin alloy coating. The nickel base coat gives Ni-Terne steel an extra measure of corrosion resistance compared to U.S. Steel's regular "Terne" steel sheet and also compared to traditional galvanizing, which isn't readily available anymore. It should also be pointed out that the Ni-Terne coating protects both interior and exterior surfaces of the fuel tank from surface corrosion.

Spectra Premium tanks are available directly from Moss Motors and Moss distributors. Moss also sells British Motor Heritage brand fuel tanks, which are more appropriate to use for concours restorations because they're made in England on original MG tooling from plain steel sheet. British Motor Heritage fuel tanks arrive painted black.

Painting the Spectra Premium fuel tanks isn't required or even recommended. Per Kelvin Dodd at Moss Motors, for best paint adhesion you must clean the tank very, very carefully to remove the oily film that covers it.

Notice: we have not measured or compared a Spectra Premium MGB fuel tank to determine if they provide the same or more mounting depth for an in-tank fuel pump as compared to original OEM or other aftermarket MGB fuel tanks. You should measure before cutting...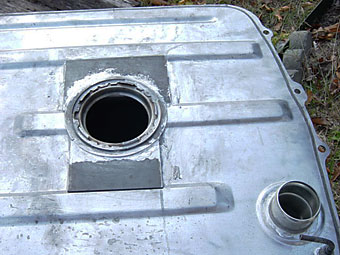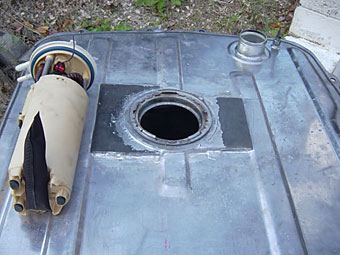 After the flange is soldered in, the module just drops in... but that's not the end of the job.

What about the fuel pump? I selected a modular fuel pump from a 1999 Chevrolet Malibu. This fuel pump is convenient to use because it mates to a relatively simple round flange in the horizontal top surface of a fuel tank. The Malibu fuel pump module has more features than I chose to use - specifically it has a built-in fuel level sensor. I won't be using this feature, so I removed the float. I believe this pump's flow capacity is about 30 gallons per hour.

The Malibu fuel pump produces 60 psi. That's a lot more than I needed or wanted, (probably too much for Ford's OEM fuel pressure regulator), but I'd already invested in a Kirban (aftermarket) adjustable fuel pressure regulator which is easily set to the appropriate 38-39 psi for my fuel injectors.

Actually, the fuel pump I used came with a complete Malibu fuel tank - from the junk yard. The reason to start with a junk yard fuel pump is that you need to cut the mounting flange from a donor tank. We used a pneumatic reciprocating saw to cut out the flange. Once removed, we neatly marked a circle around the flange, took it to a friend's shop, and used his belt sander to trim the flange down to that marked line. This left a round flange lip that looked good.

The top surface of an MGB fuel tank has embossed ribs, and we decided to center the new fuel pump module over one of them. This embossment provided us with a challenge, but we met it by soldering spacers to the tank to create a flat mating plane. Specifically, we soldered two quarter-inch thick steel plates to level the mounting surface. The edges of the steel filler plates were radiused to match the tank's embossment. After the plates were soldered onto the tank, the flange was soldered onto the plates and tank rib.
Enjoying this article? Our magazine is funded through the generous support of readers like you!
To contribute to our operating budget, please click here and follow the instructions.
(Suggested contribution is twenty bucks per year. Feel free to give more!)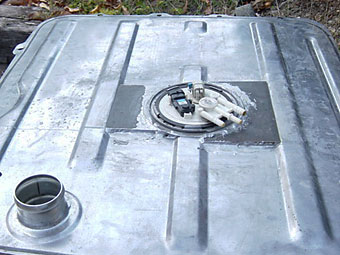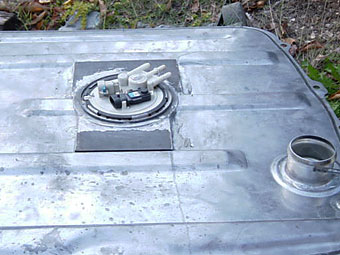 As you can see in the photos, there are three ports on the Malibu fuel pump assembly. The center port is a vapor vent. Since it's redundant with the vent port that the MGB tank already has (next to the fuel filler inlet), we capped the pump's vapor port. The other two ports are for inlet and for return. In some modern fuel injection systems the fuel injectors are provided more pressurized fuel than they can possibly use, and excess fuel is pumped right past the injector inlets and returned to the fuel tank.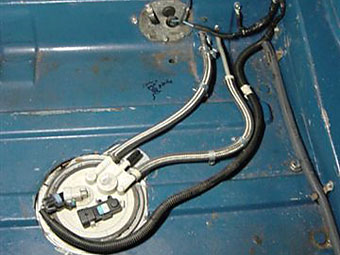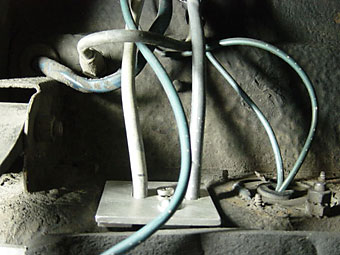 When it comes to wiring, we recommend that the fuel pump should be supplied from a relay. Pumps are very sensitive to voltage; they don't perform their best when they're operated at reduced power. A relay avoids this issue by eliminating electrical resistance and subsequent voltage-drop in the fuel pump circuit. Power is provided by a new lead, with an inline fuse, which is routed over from the battery.

A "signal" is still required from the ignition switch to turn the relay "on" and "off". We used MG's original fuel pump lead for this purpose.

The Malibu fuel pump can move a great deal of fuel at relatively high pressure, so in the event of an accident it needs to be turned "off" promptly and reliably. For this reason, we also installed a new Ford fuel cut-off inertia switch on the 12V supply circuit. (Note: 1975-80 MGB's came with a white inertia switch on the extreme righthand end of the firewall, cabin-side, but we chose to replace and relocate this function on my car.)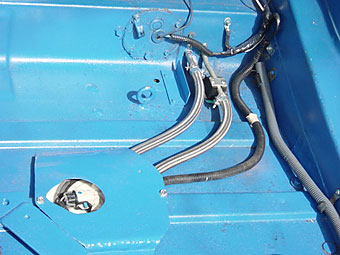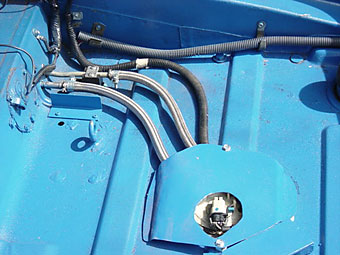 A final aspect of the installation was fitment of a sheetmetal shield to protect the module, fuel lines and wiring. My spare tire will still fit in the boot, over top this metal shield.
Disclaimer: This page was researched and written by Kelly Stevenson. Views expressed are those of the author, and are provided without warrantee or guarantee. Apply at your own risk.
Photos by Kelly Stevenson for British V8 Magazine. All rights reserved.