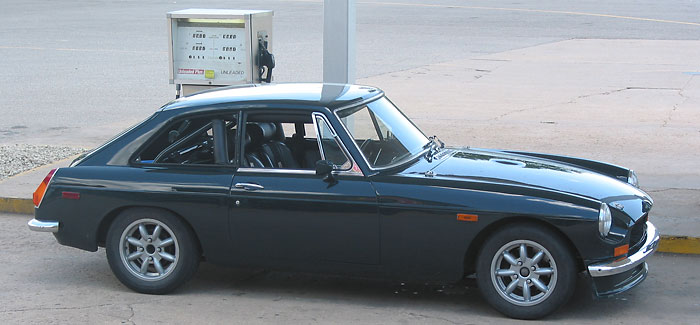 the editor's car
In The Driver's Seat (Volume XV Issue 2, September 2007)
by: Curtis Jacobson
Welcome readers!
This issue of The British V8 Newsletter is packed with more of everything: more articles, more top-quality color photography, and more practical tech-info you can use. Please tell your friends! Even the most dyed-in-the-wool purists will appreciate our cultural and historical articles. (Check out the Traveler's Guide to charming Abingdon England.) The spectacular results of our 1st-annual photo contest will knock socks off too.
This issue contains more information about new shop techniques and tools (e.g. powder coating), and more down-to-Earth explanation of how cars work. ("What are the pros and cons of competing mufflers?") We've stretched out to cover an even wider range of cars. (This issue includes our first Aston-Martin!) On the other hand, we're covering modified MGs and Triumphs in ever increasing depth. Why not?
Our branch of "the old car hobby" is one of the very healthiest and fastest growing!
Unlike conventional restorations, there's no limit to how much our cars can improve with every passing season.
British V8 2007 (August 2-5, 2007 in Willoughby OH)
Our annual meet was a huge success, thanks due to the hard work of coordinator Kurt Schley and his lovely new bride. (CONGRATULATIONS!) Special thanks also to Dan Masters for pitching-in to handle registrations at the meet, and to Pete Mantell for making our track day successful. On the ground, a team of volunteers pitched in to make everything come together seamlessly: tech sessions, autocross, parking lot parties, etc. What a great bunch of people! (Please see the special-event section of the newsletter for more specifics.)
Enjoying this article? Our magazine is funded through the generous support of readers like you!
To contribute to our operating budget, please click here and follow the instructions.
(Suggested contribution is twenty bucks per year. Feel free to give more!)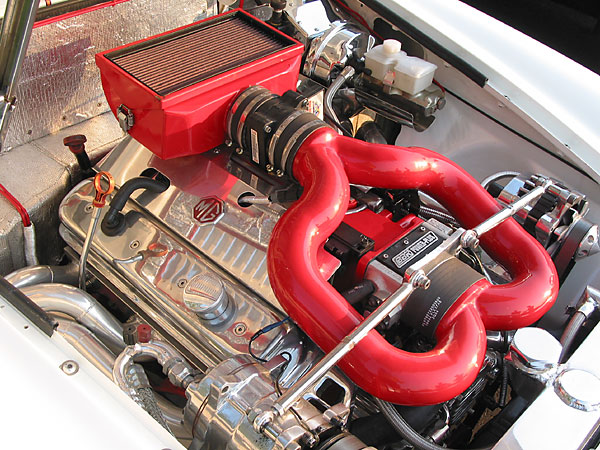 Steve Ward's LT1-powered MGB, as photographed at British V8 2007


Believe it or not... there were actually way too many awesome cars at this year's British V8 Meet to fit into this one newsletter issue. We'll feature more cars and photos from the 2007 meet in our next issue!
British V8 2008 (July 12-16, 2008 in Elkhart Lake WI)
ACT NOW because next year's meet is going to be a huge success too. (As soon as I remember where I put the hotel information, I'll come back and paste it here.)
Coordinators Paul & Mary Schils are planning a full schedule of exciting activities. I'm looking forward to spirited drives near the Kettle Moraine glacier area and a visit to the Experimental Aircraft Association's museum in Oshkosh. We'll also have tech sessions, an autocross, and valve cover racing. I'm looking forward to cheese, beer and bratwurst... and especially a traditional Wisconsin "Fish Boil". (As always, ALL fans of modified British sports cars are invited to our events. You don't need to own or bring a car to join in the fun!)
Elkhart Lake is the home of the Road America race track. Consider staying over to enjoy the Kohler International Challenge (with Brian Redman). It's a full weekend of SVRA sanctioned vintage racing, plus associated activities such as a concours d'elegance.
This Newsletter is a Volunteer Effort
The British V8 Newsletter and website represent the work of many people. I want to take a moment to recognize and thank all the folks who've contributed articles, photos, and information. Returning readers will probably recognize some familiar names including Bill Guzman, Martyn Harvey and Larry Shimp. I also want to thank brand-new writer Max Fulton, researcher David Gable, photo judges Robert and Dreama Milks, and special photography contributors Bill Mohan and Steve Clark, plus all the folks who've contributed "How It Was Done" write-ups.
I continue to be amazed by the generosity of readers. Since May we've been blessed with financial support from readers Tony Andrews, Ken Bierman, Stephen Bryant, Robert Fair, Carl Floyd, Jeff Hug, Richard Lilly, Mikel Moor, Jack Renaud, Klaus Siebert, and Al Wulf. You guys are wonderful! Your contributions will be put to good use, expanding the depth and breadth of our coverage.
Finally, I want to assure everyone that the next issue of The British V8 Newsletter will be even better than this one. How can I keep promising that? I know people JUST LIKE YOU have valuable ideas to contribute. Our hobby is growing fast, and getting more exciting every day. Don't miss out on the fun - GET INVOLVED!
Please Support Our Sponsors!
Our sponsors/advertisers are mostly small businesses with limited advertising budgets.
Make sure to THANK them for sponsoring our FREE newsletter! We couldn't produce it without sponsors.
We welcome sponsors that are new with this issue:
Advance Auto-Wire
Advance Auto-Wire: Electrical reliability in a British car? Believe it!
British Motor Heritage
Ask about the new Competition Bodyshells! Now available built-to-order.
Targett MotorSport
Performance & Racing - engine, tranny, wheels, brakes, handling & more.
Triple-C Motor Accessories
MINI Cooper, MINI Cooper S, MG, Triumph etc.

And familiar companies that have renewed and increased their sponsorship:
All British Car Repair
MGA and MGB V8 conversions. Quality restorations and repairs.
Brit-Tek Ltd.
The MGB specialists where people are more important than parts!
Classic Conversions Engineering
MGB V6 specialists, including kits, plus MGB chassis upgrades.
Fast Cars Inc.
British sports car chassis and handling. Conversions, modifications and brakes.
Glen Towery British Cars
24 years of engine conversion experience. Complete line of MGB-V8 components.
Mantell Motorsport
Ford V8 engine conversions for MGB, plus powder coating.
Moss Motors Ltd.
Performance & restoration parts for MG, Triumph, and other British sports cars
The Motorway Ltd., Fort Collins CO
Restoration, customization, race preparation and performance.
Pieces of Eight!
Struts to hold open the bonnet and the boot lid or GT hatch of your MGB.
Roadtronics Automotive Technologies
(aka: "RATCO") Triumph frames & performance chassis upgrades.
Reborn Company LLC
Rover engine specialists. MGB V8 conversions and big brake kits.

A complete list of our sponsors can be found here: SPONSOR DIRECTORY
Are you in the British sports car performance trade? If so, you should be supporting the newsletter too!