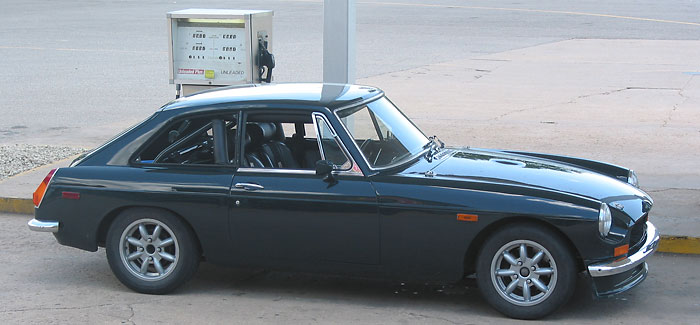 the editor's car
In The Driver's Seat (Volume XIV Issue 2, August 2006)
by: Curtis Jacobson
Welcome readers! Welcome car enthusiasts, tinkerers, inventors, hot-rodders, "tuners", and even the "purest of British Car purists"! Whether you're an old-timer around here, or new to our newsletter or our hobby, I'm hopeful and confident that you'll find both entertainment and useful information in this publication.
The British V8 Newsletter (formerly known as "The MG V-8 Newsletter") is under new management and sports a radically new look, but at heart it shares the same mission Kurt Schley communicated eloquently in the first sentence of the first issue back in June 1993: "The purpose of The MG V-8 Newsletter is to serve as a source of information and communication for anyone interested in V-8 (or V-6) MG automobiles." Actually, we're even more explicitly inclusive now. That sentence could have ended: "anyone interested in performance modification of British sports cars." No matter - on to news!
But before I write one more word, I really want to warmly thank James Jewell for his selfless service as Editor from January 2004 to May 2006. James kept the newsletter running and growing through difficult times. It's really hard work to maintain subscriber lists, to write and to edit a special interest publication, to get it printed, and then to get it mailed out.
I'm sorry, but I didn't sign up for all that. In my judgment the newsletter is ready to move into a new era... as a FREE, colorful, internet-based magazine. One of the first things I did to test this concept was to put all the already "digital" back issues online as freely downloadable and easily printable PDF files. Just in the month of July alone, 789 different people downloaded the January-May 2006 issue. And even by the most conservative measure available - enthusiastic e-mails in my "in-box" - we get at least five new readers a day.
Enjoying this article? Our magazine is funded through the generous support of readers like you!
To contribute to our operating budget, please click here and follow the instructions.
(Suggested contribution is twenty bucks per year. Feel free to give more!)
Our hobby will continue its rapid growth because we're willing to share it. From its beginning this newsletter has dramatically improved the collective knowledge base of the community and made that information more available to newbies and old-dogs alike. It can also improve the market for converted cars and conversion parts, while increasing acceptance and interest of our work. Let's welcome the "purists" who once turned us away; they don't have to modify their own cars to appreciate what good things we do with ours. Let's welcome kids too. We all benefit from a thriving hobby. For these reasons, one of my personal goals is to get all the back issues transcribed and uploaded into a great big, free, online database. (Volunteers?)
Another goal is to build the "British V8" website with NEW content. Primarily with photos taken at this year's British V8 Meet in Townsend Tennessee, the website now contains way more than 1500 color JPEG images. (Please send in your favorite conversion photos!)
Speaking of British V8 2006, I really want to take a moment and thank previous Editor Dan Masters for organizing and hosting one of the most thoroughly wonderful parties ever held for and by British car enthusiasts. Thank you, Dan, for making it all happen! Thanks also to the meet sponsors, including: Advance Auto-Wire, Classic Conversions Engineering, D&D Fabrications, Fast Cars Inc., Mantell Motorsport, and Pieces of Eight.
Anyone who doesn't know about our annual British V8 Meet will learn a lot by reading this newsletter issue. Volunteer writers Martyn Harvey and Greg Myer have penned terrific overviews. Ingenious "crazy inventor" Jim Blackwood has followed-up on one of the most interesting topics of the meet with a research paper: "Tuning for Temperature Control". All six tech sessions from the meet are covered in respective newsletter stories. And check it out! This newsletter issue features EIGHTEEN "How It Was Done" write-ups. Many of them feature cars that drove to the meet.

Before you start fretting about how we need to start pacing ourselves... that's nonsense! Block out August 1-4, 2007 and start making plans to attend next year's meet. Kurt Schley is planning REALLY big fun. The host hotel will be the Days Inn in Willoughby Ohio. (We have a 75 room block reserved!) Kurt has also arranged our exclusive use of Nelson Ledges race track on August 2, and Pete Mantell of Mantell Motorsport will be underwriting the track-time so we can all play for just $75-per-car! An autocross is also planned. There will be a plethora of diverse social activities, including (probably) vineyard tours and (certainly) spirited country drives. Of course there will be valuable tech-sessions too!

And as for the newsletter, I fully anticipate that the next issues will be even bigger and better than this one. Why? Well actually I'm counting on volunteers JUST LIKE YOU to contribute content. Come on! Get on board! Join in on the fun!