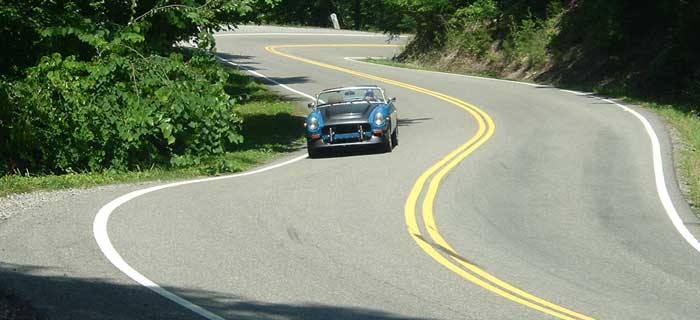 Kelly Stevenson Carves Up "The Tail of the Dragon" (Deal's Gap, Tennessee)
In The Driver's Seat (Volume XIII, Issue 3 - September 2005)
by: James Jewell
Wow, this is weird. This is supposed to be the September 2005 issue, but I'd swear the Calendar says October! Hmmm, must be all the other stuff going on in my life. Which brings me to the point of this piece: I don't think I can do this much longer. This is a hard decision to make but I think I'm doing you a disservice with my lack of timeliness, and the fact that I haven't kept up with all my promises to modernize the newsletter and web page. I haven't digitized all the back issues, and there are still a few people waiting on those issues. The fact that I've had two hard drive crashes in as many summers and have had to reconstitute much of the subscriber info each time, (because my backups also failed!!!) has just increased the suspicion that perhaps I'm not meant to do this. The Newsletter really needs to be tended to by someone retired or at least with far fewer obligations than myself. If any of you would like to try your hand at this, please contact me and I'd be happy to assist with a smooth transition of the newsletter's stewardship. I can probably squeeze out another issue or two, but I'd rather pass the helm to someone else than try to figure out all the refunds for cancelled subscriptions and advertisements before burying The Newsletter.
Maybe I'm just moody because a second summer has passed without me doing a single thing on my MGB or having the tine to attend a V8 event (I've never even ridden in a V8 MG!!), or maybe it's the stress of evening classes, home renovation, work-related duties and the guilt of putting out late issues, and maybe this funk will pass, but I think it's prudent for me to put a call out for back-up, just in case the Newsletter turns out to be the straw that breaks the camel's back.
At the moment, I've got nothing to add, other than this will probably be a bit shorter than the usual 30 pages, since I didn't recruit many article submissions, however, I suspect that is normal for an issue coming at the end of summer vacation, when folks are busy out-of-doors or on trips. Fortunately the usual suspects provided me with some material, but I expect the rest of you wall-hangers to come up with something by December, in time for the January issue!
Enjoying this article? Our magazine is funded through the generous support of readers like you!
To contribute to our operating budget, please click here and follow the instructions.
(Suggested contribution is twenty bucks per year. Feel free to give more!)

In other news, I tried to get the May issue published in color, at Kinko's, but it would have come out to well over $10.00 an issue, so we'll remain in good old black-and-white for the time being. I'll investigate the possibility of doing just the cover in color next time.


---


So a week has passed since I wrote the previous paragraphs. I've managed to get a lot of your checks processed, and read many of the "thatta boy", "good job", and "keep up the good work" notes that came along with several payments. I can't thank you enough for the pats on the back. They definitely bring the mood back up. Those of you who subscribe for two years or more at a time are also sending a subliminal vote of confidence, whether you know it or not. Having said that, I'm still looking for someone to do this long term. I'll keep at it as long as I am able, but I just don't know what the future has in store for me.

On a positive note, we have some good material in this issue. Kurt Schley has contributed another article in his continuing series on identifying the overwhelming variety of B.O.P.R components. He and Dan LaGrau have also penned a piece on shortening Rover cranks for use with GM T-5 transmissions. Finally, we have a wonderful contribution from our Belgian contingent featuring a goose-neck Weber manifold that is just to die for! And to fill in the white space, I provide you with a review of a great new book dedicated to hot-rodding our beloved Rover V8.

And one final note: I think I figured out what was wrong with the software I was using to print out mailing labels. If you still didn't get your May issue, please write or call me.

Other than that, um, what's new with you? (Followed by a nervous silence...)