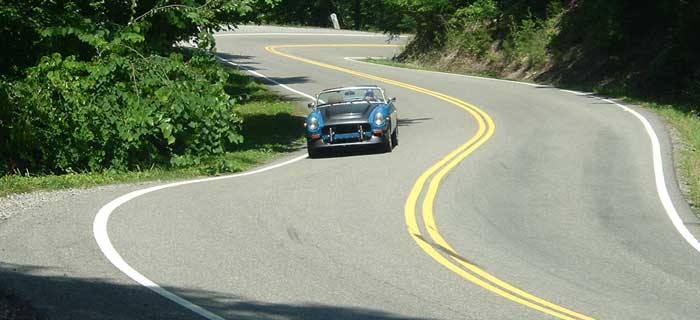 Kelly Stevenson Carves Up "The Tail of the Dragon" (Deal's Gap, Tennessee)
In The Driver's Seat (Volume XIII, Issue 2 - May 2005)
by: James Jewell
Where have the last four months gone? I honestly have no idea! Uncle Sam has had me on the road most of the time, which is why you are reading this in June as opposed to May. Many apologies! Hopefully the good content in this issue will make up for my tardiness. My thanks go out to the contributors for the articles and the photographs! I had hoped to see many of you at the Carlisle Import/Kit-Car show, but I picked up a nasty bug overseas and stayed in bed, instead. If any of you have any photographs or stories from that weekend, drop me a line. I was also unable to attend the June Terre Haute event due to military commitments, so please report in on that as well.
All of this has got me thinking about laptops. I might just have to pick one up, so that I can take the newsletter on the road with me. Not only that, but when I finally install the EFI on the Rover engine, I'll need a laptop in order to tune the ECU on the road!
But honestly, with all my travel, I need to find a way to keep the newsletter on schedule and above a certain quality threshold, or else find a replacement editor so that don't continue doing you all a disservice. But there I go again, getting all maudlin on you guys.
Let's focus on the positive for awhile. I finally pinned on the rank of Major on the 1st of June. Since my parents were coming down for the ceremony, I couldn't possibly drive them around in my old Mustang. It's just cruel putting somebody in the back seat, so I had to trade it in for a new Chrysler 300C with the Hemi. Can I say that I think an American manufacturer finally got it right? It out accelerates my 2001 Mustang GT, and quite frankly, out handles it despite the extra weight. The look is very controversial, but it is uniquely American, with a chopped roof-line that matches so many red-blooded American hot-rods (Yes, I'm aware that Daimler bought them, and that many of the parts under the skin are German, but when has Germany ever bothered anybody?). But why am I bringing this up in a British car magazine? Because of the engine, of course, all 5.7 liters of it. While I have some work to do, I'm attempting to take measurements of this beast to see if it can fit in some of our babies. While it is a "conventional" 90 degree pushrod engine, the heads are a bit wider, due to the "Hemi" valve train, so it may be a tight fit. But c'mon, who wouldn't want this beast under the hood, even if it required a bit of hammering? Did I mention that it goes from a V8 to a V4 at cruising conditions to save gas? Anyhow, this engine should start to become common on the used market in a few years since it is in a lot of MOPAR cars and trucks.
Enjoying this article? Our magazine is funded through the generous support of readers like you!
To contribute to our operating budget, please click here and follow the instructions.
(Suggested contribution is twenty bucks per year. Feel free to give more!)
I'm still working on my body rotisserie design. Most rotisseries on the market are expensive, and require you to jack or lift the body high enough to mount to them. My design incorporates two inexpensive hydraulic rams that allow the car to be bolted up at ground level and then lifted to rotation-height without the use of external hoists or lifts. Anyhow, it is my main MGB-related goal this summer to build this rotisserie. As soon as I do that, I'll publish the plans so that anyone with a saw and MIG welder can build one.

As a side note: I don't have ready access to a local metal vendor, yet I have discovered and worked with two Internet based metal vendors whose low overhead nearly compensates for the shipping. Well, now I'm just wasting space on paper. Let's get to the good stuff!

The Canadian Corner is a casualty of my absence this trimester. However, our brothers in the Great White North will back in August.