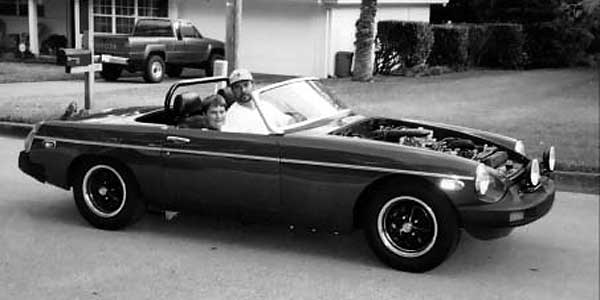 In The Driver's Seat (Volume XII, Issue 2 - May 2004)
by: James Jewell
Well, well, well.... Where do I start? As most of you know, this is my inaugural issue, and I have some pretty big boots to fill, so let me start out with some apologies for my shortcomings. First, I suspect that there are many e-mails that I haven't answered. I'm a bit disorganized, so if I haven't responded to you, keep blasting away until I do. I won't be offended by multiple e-mails. In fact that's often what I need to keep focused. Second, many of you have sent me subscription checks that I haven't cashed yet. It's taken me awhile to decide on the best way to handle the finances, but I'll start depositing checks ASAP.
This issue has some great material. Our keystone article is a reprint of a piece originally published by one of our own in MG WORLD. We've gotten permission from CH publishing to use it, and we thank them. It's unlikely that too many of us Yanks have already read it, but if you have and feel that you shouldn't have to pay twice, I've got some Euros left over from a trip you can have. If you put them in your car's coin-dish, it'll add to your European motoring experience. In addition we have some neat how-to and how-it-was done articles. You'll also notice a few cosmetic changes to the newsletter. There was absolutely nothing wrong with the old format, but I figured I might add my fingerprints here and there. Let me know if you like or dislike the modifications.
In addition to the upcoming V8 meets, I want to get the word out about the 2004 Carlisle Import and Kit car show. It's taking place on May 21st to May 23rd. Besides the usual British car stuff, much of the Kit Car stuff applies to us and always inspires me to think of ways to utilize it in our cars. In the past, there has always been a portable Dynamometer on hand, if any one wants to get some bragging (or crying) numbers for their ride and I know that this year Spridgitech will be displaying new fiberglass body kits for MGB's and Midgets for both race and street applications. These are classy, subtle enhancements to the original Abingdon lines that add functionality; not radical kits that make Hondas look like Darth Vader's helmet. There will always be a surprise or two at the show, such as the company I saw last year that is making a brand-new bug-eye Sprite kit based on a tubular chassis and modern suspension parts. That will definitely be a great platform for a light V8. Of most importance, though, is the opportunity this presents for a bunch of us to get together for an afternoon. If you are within driving distance of Carlisle, PA and would like to meet up, call me or send me an e-mail. You can find directions at Carlisle's web-site at
www.carsatcarlisle.com
. Perhaps next year a subset of us could chip in for a BritV8 table and display the various products and services that we offer, including the Newsletter.
Enjoying this article? Our magazine is funded through the generous support of readers like you!
To contribute to our operating budget, please click here and follow the instructions.
(Suggested contribution is twenty bucks per year. Feel free to give more!)
It seems that there are a bunch of us here that make one or two parts for the conversion community, but not enough to get a table as an individual. Collectively the BritishV8 community makes enough widgets that it might be worth teaming up at Carlisle or other shows. This could be a great opportunity to expose the Newsletter to a larger crowd and multiply the marketing power of the entrepreneurs in the group.
On a final note, the lovely MGB and TR-7/8 molds built by Rolly Morris of the recently defunct British American Motors have been bought by a good fellow named Tom Rynne and his company: Team Liebre, who have been making Wind-Blocker shields for LBC's and marketing them through Moss Motors and LBC Co. They should be back in production by the time you read this and should be of the highest quality.
Let me say a final "Thank You" to all the contributors this issue. Without your contribution to the community, this would be a very short newsletter. Please keep the articles coming. Some of you who submitted articles won't see them this issue, but will see them in the next one. I rationed some of the articles because I figured it would be harder to get articles out of people during the summer months.

BACKFIRE!

Backfire is intended to be a place for items that don't fit the mold of the body of the Newsletter. I'd like to see you, the reader, send in unique things. Art, cartoons, recipes and auto humor are all welcome, as long as it is original, non-copyrighted, and at least vaguely related to our hobby. Think of it as our own little version of N.P.R's "All Things Considered." This month I thought I'd share a note and photo I received.

Every now and again it is easy to forget why we do the things we do and to lose track of the things that really matter. The picture above and the following note are from a man who clearly has his priorities straight. Oh, and he also has a great idea for keeping the engine bay cool. I don't have any children yet so I am always impressed by people who can find balance in their lives.

"Enclosed is a picture of my 1980 MGB with a 1963 Buick 215 V8. I have been working on it for 7+ years now. Progress is very slow now because of Little-League, etc. I spend most of my time with the guy in the passenger seat - The Big Lefty! It is tough for the car to compete with a home-run hitter."

In addition to the importance of family, Dirk's picture reminded me of something else: The importance of young people for preserving a hobby. Whether it be old British cars, the shooting sports or coin collecting, these hobbies will disappear from this mortal coil at the same time we do if we don't kindle an interest in the younger generations. The reason we can still get replacement parts and new body shells is because there is a critical mass of people still buying them. It won't last forever. Last time I checked, there was far more grey stubble than peach fuzz in the British Car crowd, so I urge all of you to find a daughter or son, nephew, niece, grandchild, or neighborhood kid and include them in your hobby. Most hobbies require patience and self-discipline and teach self-reliance. If you take the time to do this, you will become a mentor, and will teach these kids important social skills, the value of delayed gratification, a sense of community, and trust. Most kids don't get enough quality time with adults and many have poor role models. Who knows, you could make the difference between a kid who spends all his free time smoking' weed behind the Quicky-Mart and a kid who learns a trade or gets a degree, contributes to society, and passes the gift of learning on to one of his neighborhood kids 30 years later. However, if all this altruistic bunk is just so much noise to your ears, think of it this way: the little imps are a great source of free labor.

Safety Faster!