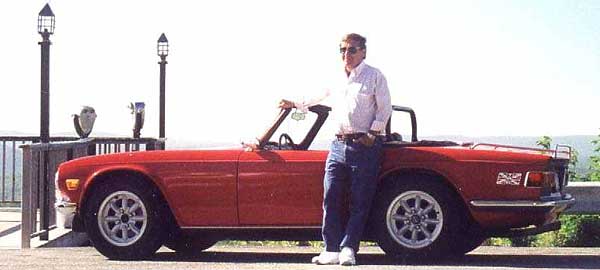 From the Editor: Dan Masters (Volume XI, Issue 1 - January 2003)
Thanks to the very generous contributions from a very few readers, and support from the advertisers, it looks like the newsletter will continue online for awhile, at least through the end of 2003. As long as I receive enough contributions to cover the cost of maintaining the web site, I'll continue to publish it online, but I must say I'm disappointed in how few people care to contribute - a total of only 14 people! Fourteen out of how many readers? If this number is indicative of the interest in the online version, maybe it just fold. Personally, I'd rather receive a lot of small contributions from a large number of readers, than to receive a few large contributions from a small number of readers.
How many people do read the newsletter online? If you're reading this newsletter online, please send me an e-mail and let me know. I believe the newsletter has a rather large audience, but I may be wrong. If you want the newsletter to continue online, please let your voice be heard. The future of the online version of the newsletter beyond 2003 will be determined by the response I get to this plea, continuing only if there are enough online readers to justify it.
Regardless of how many readers we have, there are a number of people interested in British V8 conversions. When I first started my conversion, I pretty much expected that I'd be on my own, but I have been very pleasantly surprised by the number of like minded individuals I've encountered since I began. And, I might add, our numbers are growing all the time. So too is the number of folks in attendance at the annual V8 conventions.
From the number of motel reservations made thus far, I am expecting a very good turnout at this year's convention, to be held in the foothills of the Smokies. What? You haven't made your reservations yet? Better get cracking', as rooms are going fast! For your convenience, a map, schedule of events, and a registration entry form are included in the center of this newsletter. Fill out the form and send it in now, because you don't want to miss this one.
Enjoying this article? Our magazine is funded through the generous support of readers like you!
To contribute to our operating budget, please click here and follow the instructions.
(Suggested contribution is twenty bucks per year. Feel free to give more!)
The entry fee for this one is a bit higher than in the past, but you will be getting more for your money than in the past. For your modest $45 entry fee, you'll be getting, in addition to all the planned activities, two free meals, snacks and refreshments, and live entertainment - not too shabby for a mere $45! Remember, too, any money left over after expenses are met will be used as seed money for the next meet, or turned in to the NAMGBR.

This is one event to which you'll want to bring your wives/girlfriends/boyfriends/significant others to. The Great Smoky Mountain National park is a prime vacation destination for many folks in the eastern half of the US, so even for those who have no interest at all in these little British hot rods, a few days spent here can be a welcome respite from all the winter days which will have just passed prior to this event. Except for the fall season, with its brilliant foliage colors, May is the prettiest time of the year to be in East Tennessee. School is still in session in most parts of the country, so there won't be the crowds to fight, yet all of the tourist attractions will be open. The cold weather will be over, the hot weather will still be weeks off, so even the weather will be inviting. Come on down! You be glad you did. Something for everyone at this one!

One word of caution, though: If you plan on doing the "Dragon" as a passenger, or if you plan to do it as a driver and you have a tendency to motion-sickness, be sure to bring along some form of anti-motion sickness medicine - 318 curves in 11 miles will surely test your motion sickness immunity. Been there, done that! Not a pretty sight. Nothing spoils a good vacation quite as quickly as a bout of "sea" sickness.