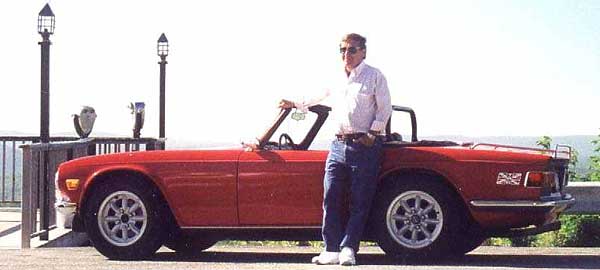 From the Editor: Dan Masters (Volume X, Issue 2 - May 2002)
This issue marks a milestone of sorts. A full calendar year has passed since the first issue of the newly named British V8 Newsletter appeared, and this issue completes the first year's worth of issues since I took over the publishing duties.
Hopefully by now, I have caught up with everyone who was short-changed during the publishing fiasco of last year. I have mailed out an awful lot of back issues to subscribers in the last few weeks (around 200 copies!) since Dan Lagrou, of D&D Fabrications, sent out a flyer to his customers with a note to contact me about the newsletter. Dan also made a very generous contribution to the newsletter, helping me to recover some of the cost associated with sending out back issues and maintaining the web site (something to think about as you consider where to buy your conversion parts). Thanks, Dan!
After a lot of thought, considering all the options, I have decided to continue publishing the newsletter online as well as in printed format. At $15.00 per year, the printed version will, I hope, pay for itself, but the cost of the online version will require financial support from readers if I am to keep it up. If you enjoy the online version, and find it of value to you, a modest contribution would be much appreciated. I believe there are enough online readers that if everyone who reads the online version would send me a dollar per year, I could recover my expenses. Not everyone, though, will be willing to send even one dollar, so I would ask each of you that are willing to help to contribute one dollar per issue.
I'm not looking to make a profit on this, so if that one dollar per issue should turn out to an excessive amount, I'll let you know and revise my request. On the other hand, if it doesn't generate enough revenue, I'll let you know about that as well.
Enjoying this article? Our magazine is funded through the generous support of readers like you!
To contribute to our operating budget, please click here and follow the instructions.
(Suggested contribution is twenty bucks per year. Feel free to give more!)
Springtime has finally arrived here in the south, with warm, sunny days, and cool, breezy nights. Alas, for the first time in over twelve years, I'm without a running sports car. I have two V8 conversions under construction, and my "stocker" is down with a bad rod knock, so I'm reduced to driving an old Toyota pickup. Bummer! I need to get away from this computer and back out in the garage.

How many of you are planning to be at the British V8 convention in Grand Rapids in August? I certainly plan to be there, even if I have to drive my truck. Steve Carrick and his pals have put together what looks to be a great event. How can you miss track time at Gratten?

Planning is under way for the 2003 event. Possibilities being considered are Denver, CO in June, Knoxville, TN in September, or Tacoma, WA, time to be determined.