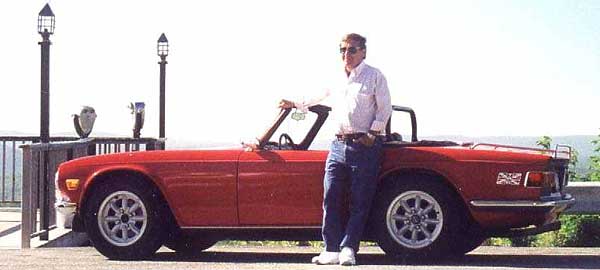 From the Editor: Dan Masters (Volume X, Issue 1 - January 2002)
First of all, a great big thank you everyone for not lynching me, and for your patience and understanding in light of all the problems with the newsletter. Hopefully, we are back on track now, and the newsletter will continue for a long time to come. There are still a lot of details to work out as concerns distribution of the newsletter - online versus paper, for example - but I hope to have all of these ironed out by the next issue.
Another item of concern yet to be resolved is the issue of newsletter finances. It isn't fair to those who have already paid to be asked to pay again, and it isn't fair to ask you to pay for material that any Tom, Dick, or Harry can download for free from the Internet. Although I'm not looking to make any profit from the newsletter, I don't want to be out anymore money than the equivalent cost of a subscription either. At this time, I don't have a handle on what my expenses may be, although I can calculate to three decimal places what the paper/ink/postage cost is per hard copy, and I know to the dollar what my costs are for webspace. By this time next year, I should have a firm handle on things.
Also by this time next year, the current subscriptions should have run out for those who have already paid. At that time, a fresh start would be appropriate, both for me and you, the subscribers. Between now and then, I should be able to figure out a way to password protect the web site to make the material available only to paid subscribers. Or, as an alternative, e-mail the newsletter to those who have subscribed. In the interim, I would not be opposed to accepting modest donations from any one who would be inclined to help me recover some of my current expenses. Several readers have written to me offering to help.
Enjoying this article? Our magazine is funded through the generous support of readers like you!
To contribute to our operating budget, please click here and follow the instructions.
(Suggested contribution is twenty bucks per year. Feel free to give more!)
As I have stated before, it was never my intention to become the publisher of the newsletter - I had a more modest goal of being merely the editor. But now that I am the publisher, I will do my best to publish a quality newsletter, with the kind of material you want to see, and do it in a timely manner. I have a lot to learn, especially pertaining to gathering up material for articles, and for the subscriber/advertiser revenue generation, so please bear with me.

As many of you know, I have been in the process of stuffing a Ford 302 into my TR6 for several years now, while my MGBGT V8 conversion sits on hold. Last month, I took two steps towards getting started on the MG project. The first step was to install a larger capacity fuel pump (see story on page 13), and the second step was to contract with Ted Lathrop of Fast Cars Inc., to do the conversion for me. I'm a hard-core, unrepentant, do-it-yourselfer, but as much as I'd like to do the conversion myself, I have gradually come to the conclusion that I'm not going to get it done anytime soon at the rate I'm going.

Look for me soon in a Ford 302 powered MGBGT! I'll be using the same engine as the one I'm installing in my TR6, and the same one Steve Carrick is using, as shown on page 4. I'll also be using one of Ted's fantastic front suspension set-ups, and a 4-link rear axle set-up. Naturally, the conversion process will be well documented and photographed, so look for a comprehensive how-it-was-done article in a future issue of the newsletter. Am I getting excited? You betcha!