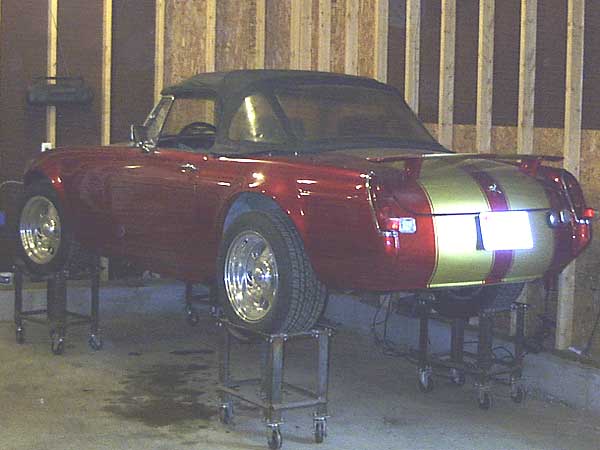 Shop Tech: An Alternative Approach to Building Car Dollies
The British V8 Newsletter, Volume XV Issue 1, April 2007
by: Joe Schafer
After seeing Greg Myer's article "Shop Tech: Constructing a Car Dolly" in the December newsletter I figured I'd share my setup - not to be better or worse - but just to show a different approach with different advantages and disadvantages.
I started with a set of car roller dollies that you can purchase almost anywhere (Harbor Freight, Sears, Tractor Supply, etc.) and I extended them 14" using 2" angle and then installing a cross brace. (The cross brace is very important!)
I can't imagine having built my car without them. They are the perfect height for me on a creeper. The engine and transmission were in and out of my car at least 20 times, and the stands were perfect height to help with that. When you need room in the shop for something else, just roll the car into the corner.
The unique drawback of this approach is that you can't work on the suspension or even have one wheel off. Also, like a traditional car dolly you wouldn't want to get in a hurry pushing the car because as Greg Myer mentioned, a stone or a wrench could make for a bad deal.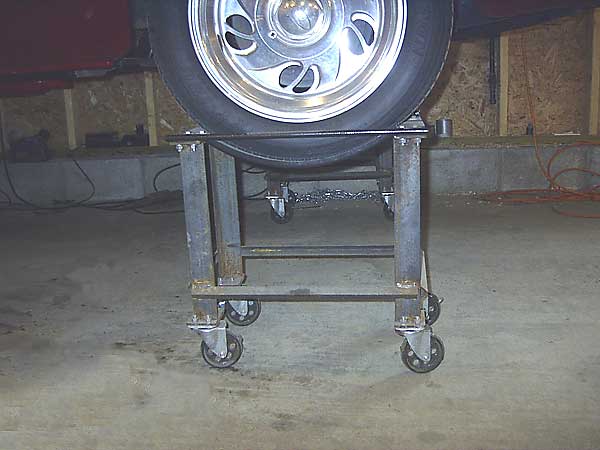 Setting the car on the dollies takes less than 20 minutes. (I have an extension for my floor-jack that I cut on a lathe to raise the saddle 6"). I just raise the car one end at a time and set it on jack stands. Then I put my extension on the jack and raise the car the rest of the way. Finally I substitute the dollies for jack-stands and lower the car down onto the dollies.
Enjoying this article? Our magazine is funded through the generous support of readers like you!
To contribute to our operating budget, please click here and follow the instructions.
(Suggested contribution is twenty bucks per year. Feel free to give more!)
I can honestly say that my car would not be halfway done had I not come up with something like this! If you are short on shop space, you can keep the car in the corner. Then when you have an hour or two to tinker with it, simply pull it out and in five minutes you can be working on it. It only takes five minutes to put it away again. It is easy to move and for me the perfect height for doing 99 percent of my 302 conversion.
What would I do differently next time? I might only go 8 or 10 inches, because reaching over the fender to work on the engine requires standing on a milk crate.


Disclaimer: This page was researched and written by Joe Schafer. Views expressed are those of the author, and are provided without warrantee or guarantee. Apply at your own risk.

Photos by Joe Schafer. All rights reserved.