Canadian Corner (Volume XV Issue 3, December 2007)
by: Martyn Harvey


25 Years? - 40 Years? - Worth the Wait!
In the late 60s and early 70s I was a teenager living in the UK. I loved cars then and I still love them today. Starting with an Austin Mini, a Morris Minor pick-up, and a Ford Cortina, I learned to drive at a very young age... and I couldn't wait to get my license and a car of my own. This is the story of how it took twenty-five years to get from there to the car I always needed, and why it was worth the wait.

I've also included a summary of Key Events in the History of the MGB V8 Hobby in Canada.

You have to start somewhere I guess, and I started with a VW Beetle. I loved it. It was a grey 1962 model that I wanted to convert to a dune buggy. (Youthful ambition!) In those early years, I also briefly owned a black 1957 Beetle.
When I moved to Canada in 1973, the first car I got was a turquoise blue, oil guzzling, rust-bucket. A 1964 Mercury Comet certainly wasn't my first choice! I really wanted an MGB GT and I actually went to look at a used 1967 GT. But my very protective uncle with whom I was living was also my guardian, and he had already decided that a used British sports car would be a bad idea. In his role as guardian it was his duty to make sure I didn't get ripped off buying something silly (or British.) Ironically, he brought home the turquoise rust-bucket and tried to convince me it was a good deal for $100.
However, it wasn't a good deal and I quickly moved on to my second Canadian car: a 1965 Beetle. It was on this car that I learned some basic auto mechanics. I tried to tune the engine one day and set the car on fire. My next car was a 1971 Renault "12". I enjoyed the front wheel drive, the comfortable seats and the excellent fuel consumption... but I still wanted an MGB GT.
When my parents arrived in Canada they needed transportation and they decided to buy the cheapest new car available: a 1974 AMC Gremlin for $2680. I inherited this car a couple of years later and drove it while rust consumed it. It wasn't a fun car to drive: it didn't really go and it certainly wouldn't stop!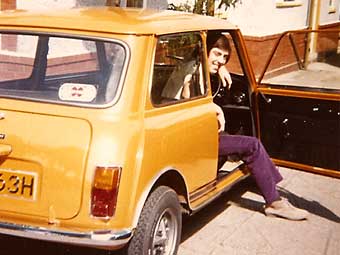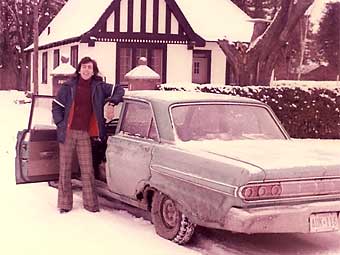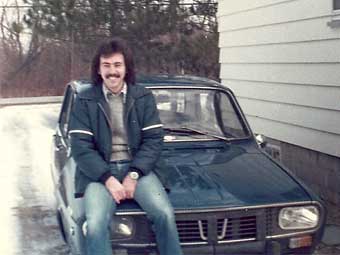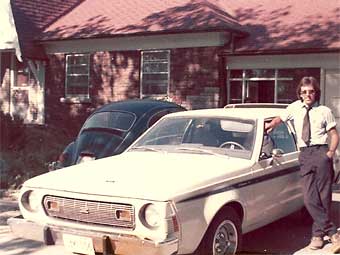 When I became fully employed I managed to move back into the world of imported cars and bought a used 1976 Audi 100LS. It was a posh-looking car but also a money pit and I learned that it was impossible for me to tune up an early style Bosch fuel injection system. That was definitely a good thing, actually, since it prevented me setting the car on fire like the old VW.

In 1978 my dad helped me to buy a brand new Ford Fiesta. It was truly a fun car to drive and it was also a sensible car. However, it was small - very small - and not fast either. It was probably the need for speed that led me to the purchase a brand new 1983 "T-roofed" Mercury Capri 302 5-speed. This car was a monumental diversion from family practicality and it got me hooked on V8 power plants. It was a lot of fun, and it was fast, but it just didn't handle the way a sports car should. That point was driven home to me when I drove a friend's 1980 Triumph TR8. My life was changed forever. I finally knew that I didn't just want a British sports car - I needed one - and I decided to take action.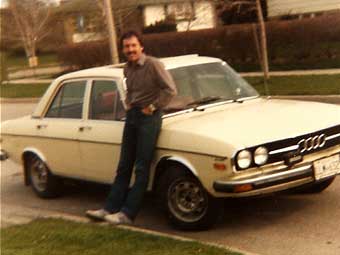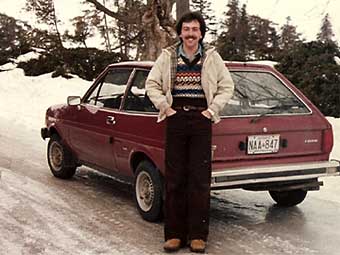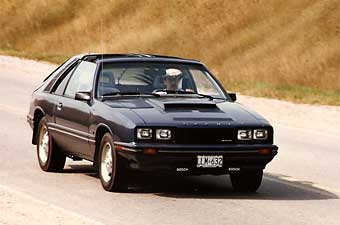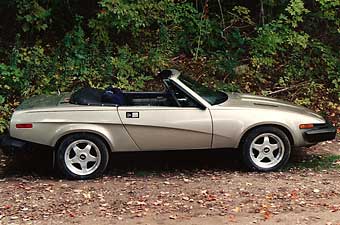 Enjoying this article? Our magazine is funded through the generous support of readers like you!
To contribute to our operating budget, please click here and follow the instructions.
(Suggested contribution is twenty bucks per year. Feel free to give more!)
That decision led me to the purchase of an MGB. My top three reasons for choosing the MGB were:
(1) It seemed to be the quintessential British sports car, (in other words, it looked good),
(2) It was cheap to buy (affordable),
(3) It would be cheap and easy to maintain (durable, and with low operating costs).

There was a fourth reason too: I wanted to learn how to maintain my own car and the B seemed simple enough to be a good start. This "fourth reason" turned out to be very true. The first driving trip in my 1972 MGB resulted in a broken U-joint and a very slow limp home! The first tune-up I attempted on my 77 MGB resulted in a cross-threaded spark plug and some expensive machining on the cylinder head. For some reason these problems didn't turn me off MG cars in the slightest. Strangely enough, they created that special bond MGB owners have with their cars. The bond kept growing stronger and by 1995 it had grown into a bit of an obsession that led me to complete a V8 conversion.

I had already owned and enjoyed my red four-cylinder MGB Roadster for about eight years when I first laid eyes on a black MGB that left an indelible mark in my mind. I was smitten and I decided I just had to have a shiny black "B" with alloy rims, chunky tires and an overdrive gearbox.

A few months later I was driving home my new possession: a sixteen-year old 1979 MGB LE. The car was in good original condition, still sporting the factory paint, biscuit interior, and single Stromberg carb. The factory dash plaque recorded her as car number 54 of 100 imported into Canada. The odometer showed just 86,000 original kilometers and the Ministry of Transportation records indicated three previous owners. The last owner had parked her in a barn beside a Healey 100 for some time, although he did drive her occasionally. He had oil sprayed the chassis every year and this had kept the rust away. She was solid but in need of some TLC. She was also in need of more horsepower!

During the eight years I owned my red '72 B, I had learned to fix minor mechanical problems and to enjoy making minor performance enhancing mods. I added adjustable shocks, thicker sway bars, alloy rims, wider tires and exhaust headers. That car was a lot of fun to drive around the country roads of South-Western Ontario. In comparison, the LE was a slug and I was determined to do something about it.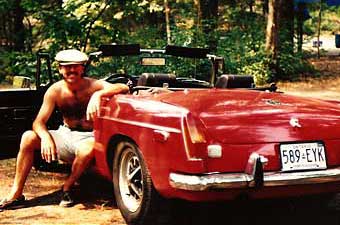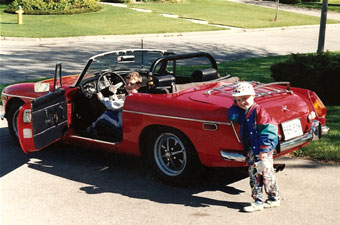 (At right: BritishV8 autocross hot-shoe Graeme Harvey in the driver's seat. His brother Andrew waits for a turn.)
The black MGB that had "caught my eye" the previous year was quite a special car. It was a Rover V8-powered machine. I was determined to own one too. Of course this meant building my own BV8 since at that time it was almost impossible to find such a car for sale in Canada. I wasn't sure if I was up to the challenge since I had only been tinkering and playing with my '72 B - basically changing oil and performing routine maintenance tasks. As I researched the project, I discovered to my surprise a couple of other MGB V8s in South-Western Ontario. Don Smith of Cambridge and Keith Childs of Hamilton had independently built Rover-powered MGBs. (Both of these cars still reside in Ontario and they're both show-cased in the British V8 website's MG Photo Gallery.) I also discovered a factory MGB GT V8 in Toronto, owned by Dave Plummer. This car was brought over to Canada by Dave when he emigrated from England. I was thrilled to purchase a brand new factory V8 tachometer from him that continues to operate in my current car: "HARV8".

In 1997 then, twenty-five years after purchasing my first car back in the UK, and twenty-five years after Ken Costello produced his first MGB V8, I started driving my first MGB V8 roadster. I wasn't disappointed with my efforts or with the money it took to build the car. I'm just as smitten today with the whole MGB V8 hobby as ever!

In fact, the MGB V8 hobby in Canada just keeps getting better and better. I've recently started a construction of another MGB V8 to enjoy in my retirement, but this one will be an MGB GT - the car I wanted in the beginning except better!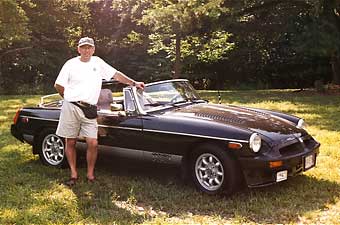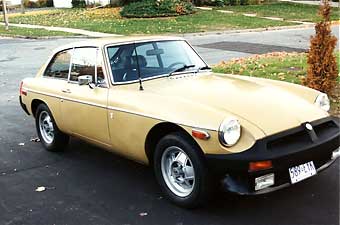 Martyn's MGB LE V8 (aka "HARV8") and his '74.5 MGB GT V8 project car.
Key Events Related to the History of MGB V8's in Canada
Year
Activity
1962
First MGB ("G-HN3 101") was produced at Abingdon, England.
1968
Earliest known MGB V8 conversion within Canada is offered for sale.
A 1967 MGB GT with Ford 289 was offered by Gulliver Motors in Hamilton ON for $3500.
If you have additional info about this or any other early conversions please contact us!
1967 - 1969
Abingdon produced the MGC (4,542 roadsters and 4,457 GTs).
1971
Ken Costello introduced his MGB GT V8 in the UK press.
(Note: Ken had been building his Costello V8's for about a year already.)
1972
Costello shipped a left-hand drive MGB GT V8 (w/ automatic) to a Canadian customer.
1973 - 1976
Abingdon produced 2,591 "factory" MGB GT V8s in the UK.
(Note: actually 2,600 if you count the pre-production engineering & marketing builds.)
1976
MG ceased production of the MGB GT V8 in the UK.
1980
MG produced their final MGB at the Abingdon factory.
1992 - 1994
Rover produced approximately 2,000 MG RV8s in the UK.
1993
MG V-8 Newsletter launched by Kurt Schley in Ohio.
1997 - 2003
Canadian MGBV8 Register website launched by Martyn Harvey in Ontario.
In 2003 there were 39 Canadian members listed.
1997
First MG V-8 Annual Meeting held (in St.Louis MO)
1998
Brooklands Car Company of (Kitchener ON) Canada produced their first "350S".
(The Brooklands 350S was an MGB-based special powered by a Rover V8 engine.
Brooklands has developed a succession of MGB-based V8 sports cars since 1998.)
1997 - 2007
Growing #'s of Canadian V8-conversions attended British V8 Meets:


| | | |
| --- | --- | --- |
| 1997 (St.Louis MO) | - | no Canadian cars in attendance |
| 1998 (Annapolis MD) | - | 1 Canadian car (Martyn Harvey) |
| 1999 (Champagne IL) | - | no Canadian cars in attendance |
| 2000 (Westlake OH) | - | no Canadian car in attendance |
| 2001 (Sebring FL) | - | 1 Canadian car (Martyn Harvey) |
| 2002 (Grand Rapids MI) | - | 2 Canadian cars (Pete Smith & Martyn Harvey) |
| 2003 (Townsend TN) | - | 1 Canadian car (Martyn Harvey) |
| 2004 (Grand Rapids, MI) | - | 2 Canadian cars (Chris Trace & Martyn Harvey) |
| 2005 (Terra Haute IN) | - | 2 Canadian cars (Pete Smith & Graham Creswick) |
| 2006 (Townsend TN) | - | 6 Canadian cars in attendance! |
| 2007 (Willoughby OH) | - | 10 Canadian cars in attendance!!! |

2000 - 2007
~1/2 dozen Canadian V8s gathered annually at the Bronte British Car Day, Burlington ON.
2001
Dan Masters began uploading British V8 Newsletters to the internet (in PDF format).
2006
Curtis Jacobson moved the British V8 Newsletter entirely online and made it free.
2007
Now that 15 years have passed, it's feasible to import and register an MG RV8 in Canada.
2010 ?
Proposed Canadian-Hosted British V8 Meet.
Disclaimer: This page was researched and written by Martyn Harvey. Views expressed are those of the author, and are provided without warrantee or guarantee. Apply at your own risk.