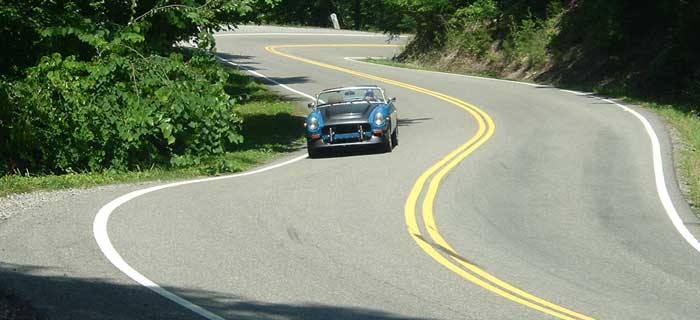 Kelly Stevenson Carves Up "The Tail of the Dragon" (Deal's Gap, Tennessee)
Canadian Corner (Volume XIII, Issue 3 - September 2005)
by: Martyn Harvey
I've often wondered why I love my MGs so much. I could easily list the "Top 10 Reasons" for loving an MG, as I'm sure any other owner could. However, there are times that I have actually considered selling one of my cars! I'm not sure what comes over me at these times but I am always relieved when I come to my senses and resist the urge. After all, MG ownership is a way of life and the car is an integral part of the family. How could life go on without the beloved MG? Just like the family pet, the old MG is always happy to see you and responds to love and attention with a "purr". It raises your spirits when you are down and enjoys nothing more than a spirited country drive. On most occasions it brings out the best in you and melts away the stress of the working day as you blast down the road with the wind in your hair and the raspy exhaust note in your ears.
There is, of course, the occasional off day when the trusty MG develops a minor sickness and, of course, you fully understand that these things can happen to anybody in the family. An easy cure is usually found in the toolbox drawer or on the spares shelf in the garage. A touch of TLC works wonders and life is good again. The joy of MG ownership usually out-weighs the nuisances of daily chores such as cleaning up its messes and feeding its insatiable appetite for oil and various Lucas products.
Enjoying this article? Our magazine is funded through the generous support of readers like you!
To contribute to our operating budget, please click here and follow the instructions.
(Suggested contribution is twenty bucks per year. Feel free to give more!)
However, some days the old MG can look a bit tired and run-down. It may seem a bit long-in-the tooth leaving you with a guilty feeling of craving a younger and more responsive machine. The other day, this happened to me. I noticed a very nice Honda S2000 sitting on the forecourt of a local reputable used car dealership in town. I swung the old MG around and parked beside the Honda. In less than a minute the salesman was beside me. "What year's the MG?" he asked. "Did they come with louvers in the hood?" "Is it really a V8?" He ran off to get the owner who apparently had a TR6 at one time and loved it. They both appeared within another minute. "Nice car. What year is it?" After a rather lengthy conversation about my MGB, I finally got a question in about the Honda. "How much is the Honda?" I asked. "$32,000 - it's a one owner car - low mileage - and she really moves out nicely." said the salesman.


It's funny how quickly a person can change their line of thinking. As I'm driving away from Frank's Garage, I'm thinking about my old MG: "one previous owner, low mileage, and she really moves out nicely", and classic British styling, and British heritage, and, oh yeah, I put a lot of her together myself! She really is a big part of the family. With a big smile on my face, I cranked up the tunes, geared down, and gave her some gas. Once again I decided to take the long way home, feeling relieved that the urge to change to a newer machine had gone away again!