Martyn and Graeme Harvey Attack "The Tail of The Dragon" Together (Deal's Gap, Tennessee)
Canadian Corner (Volume XI, Issue 3 - September 2003)
by: Martyn Harvey
During the last decade my interest in the MG marque has almost grown into an obsession. Well, if not an obsession, then certainly an addiction. Driving 'em, fixing 'em, modifying 'em and collecting anything associated with them. The possibilities are endless. OK, so I confess to my addiction! But it is an enjoyable addiction and not too harmful to self or others. I prefer to call it a hobby and I suspect it will continue for at least another decade.
My hobby encompasses a wide range of MG activities as previously mentioned. Usually my hands show the telltale signs of messing with MG's, namely dark oil stains and the odd dirty cut. This kind of activity is necessary to ensure the main purpose of MG ownership; driving the cars on back-country roads.
There is, however, an alluring activity that can occur quite innocently during weekends and holidays: shopping the flea markets, thrift stores and antique marts. The number of treasures that can be found is surprising and scoring a unique piece of MG nostalgia is exciting and highly rewarding to a collector like me. In the past few years I have become very involved in buildingV8 powered MGB's. The engine of choice is the GM aluminum 215 V8 that was introduced to the US market in the Buick-Oldsmobile-Pontiac (BOP) compacts of the early sixties and subsequently fitted into different British Leyland products through the decades until today. So my collections include both MGB memorabilia and BOP215 / RoverV8 memorabilia.
Enjoying this article? Our magazine is funded through the generous support of readers like you!
To contribute to our operating budget, please click here and follow the instructions.
(Suggested contribution is twenty bucks per year. Feel free to give more!)
A lot of stuff can be found on the world's largest flea market, eBay. Although I have "won" numerous pieces on eBay (and enjoyed the process), nothing replaces the thrill of finding something "in person." For example, last month I was poking around a local thrift store when I spotted a box of old magazines.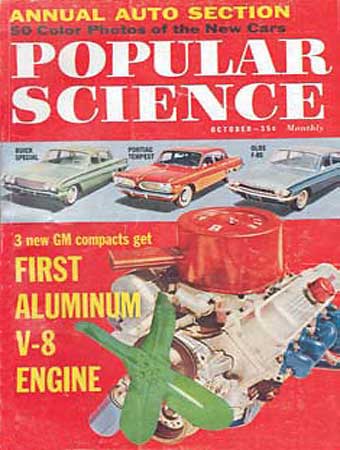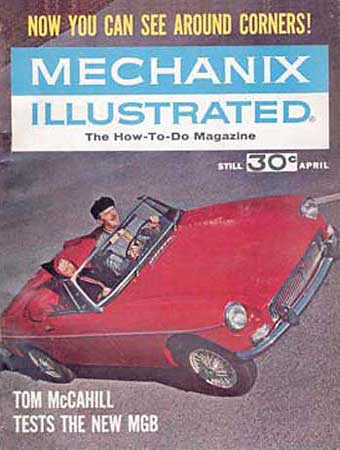 When I realized these magazines were Popular Science and Mechanix Illustrated from the 50's and 60's, I hoped I would find something valuable. As I pulled through the box I discovered two wonderful treasures: an October '60 edition of Popular Science that featured the introduction of the then new BOP engines and cars, and an April '63 edition of Mechanix Illustrated that featured a road test of the then new MGB Roadster. I thought it was ironic that these two antique magazines introduced the two machines that I enjoy mating together today.
In fact, over forty years after the publication of these magazines, there are many people all over the world mating the BOP engine with the MGB!

Needless to say, I was thrilled with my "valuable find" that cost me a total of twenty cents. The most enjoyable part of this event for me was the analysis of how this could happen. Forty years after their publication, these magazines were discovered together by an MGBV8 addict in a thrift store. Isn't life interesting!