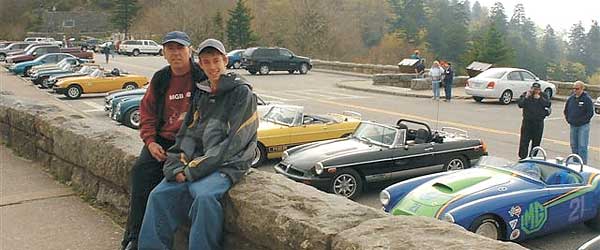 Canadian Corner (Volume XI, Issue 1 - January 2003)
by: Martyn Harvey
I was reflecting on the Canadian MGB V8 scene recently. About ten years ago, when I became seriously interested in building a car, it was a lot more difficult to find conversion information and sources for conversion parts than it is today. What hasn't really changed is the process that gets a person started on a conversion project. I saw my firstMGBV8 parked in a garage at a house when I was buying some used MG parts I saw advertised in the local paper. I asked to look at the car and I was smitten! I loved my 4-cylinder MGB so why wouldn't I really love an 8-cylinder MGB? I had to have one!! Larry became a good friend, an MGB V8 mentor and ultimately responsible for me building my own car (and spending lots of money!).
I think that same process (that of owning a 4-cylinder car and seeing somebody with a V8) is behind many a person's desire to own an MGB V8. Actually, I am sure it is because I receive at least a phone call a month from somebody who wants to build one. The information explosion and the increased availability of V8 conversion parts makes building a car much easier today, so there are numerous conversions currently underway in Canada. Of course, there are also the guys who built their cars a while back and are now improving them or building new ones!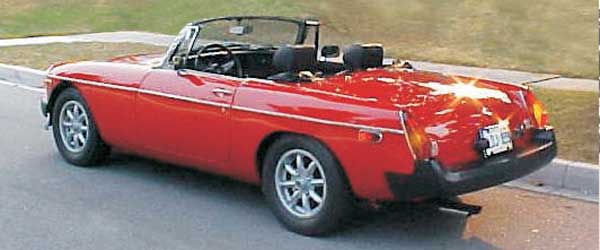 Keith Childs built his car ten years ago, enjoyed driving it for a decade and then recently switched his engine and complete drive train from Rover 3.5 with MGB gearbox to Rover 3.9 with SD1 5-speed gearbox. In Canada, the earlier-built cars used the parts that were available at the time such as Buick/Olds 215 motors, early Rover 3.5 motors, MGB gearboxes and adaptor plates, and MGC rear axles. Most conversion parts were sourced from the UK, usually from Dave Vale at the V8 Conversion Company. I bought such a car a few years ago (photo above) and love its vintage feel.
Enjoying this article? Our magazine is funded through the generous support of readers like you!
To contribute to our operating budget, please click here and follow the instructions.
(Suggested contribution is twenty bucks per year. Feel free to give more!)
David Willms built his car last year, and after researching the different "ways to go" he decided to use a Buick 300 motor, T5 transmission and Ford 8.8" rear axle (somewhat reminiscent of Mike Moor's Buick 300 powered car). This car turned out to be a successful blend of "old" and "new" technology and David engineered it himself. It is an example of how a builder can produce his own "personalized" machine. Even though David loves this car, he is modifying and improving it during this winter season.
So the phone calls keep coming in from people who want to build an MGB V8 and the engine of choice still seems to be the Rover 3.5 because of their availability from rusted Rover SD1 sedans. However, I have been receiving more questions about how to build cars with "other" engines such as small block Chevy or Ford V8's and, of course, GM V6's.

As you can see, there is a lively MGB conversion scene happening in Canada. I think it will soon be time for a British V8 Summer Party in Canada! I hope this can happen in the not too distant future. In the meantime, I can't wait to see you all in Tennessee in May.