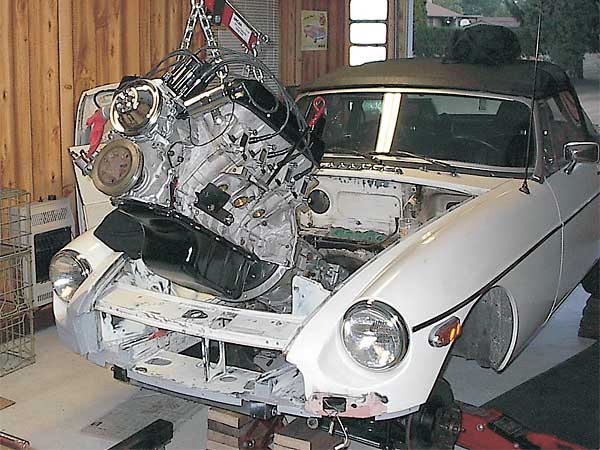 Building the MGB that British Leyland Should Have
by: Rod Holderbaum
(originally published in British V8 Newsletter, Volume XI Issue 1, January 2003)
PART 1 - Getting the Bug
Have you been dreaming of transplanting a V8 engine into an MGB? Here's how one converter began his project.
I've owned, driven, and enjoyed British sports cars (BSC's) for well over a quarter century. Although I already owned a 1970 MGB and a 1962 Triumph, I found myself looking for another project about two years ago. I considered an Austin Healey, another Triumph, and for a brief spell considered defecting to an American Muscle Car. Not that there's anything wrong with American "vintage tin", I just felt that another BSC was the best choice. It wasn't until I attended the Roadster Factory car show in August 2001 that I really got the bug to do an MGV8 conversion. I had seen MGV8's in the past, but for some reason never really considered owning one. But why not? MGB's are great little cars and are wonderful drivers. But they are definitely underpowered with that stock 1.8 liter four banger.
The stock MG engine can certainly be improved, but a V8 engine that is lighter than the stock engine would make a great little car. The fact that MGBV8s were factory produced in the mid-1970s also increased the appeal of this conversion.
PART 2 - How to do the Conversion (and convince the wife)?

Immediately following the Roadster Factory car show, I started searching the Internet for information on MGB V8 conversions. The first source of information I found was an article by Roger Parker that I downloaded and studied for days. I also purchased a copy of "How to Give Your MGB V8 Power" by Roger Williams and read it cover to cover, several times. Both publications were authored by British enthusiasts and, therefore, focused on parts and options available in the U.K. As a result, I was initially confused by some of the conversion options available in the U.S. The conversion also seemed to be more involved than I originally though it might be. It dawned to me that this meant a larger cash outlay and more convincing of upper management (a.k.a. my wife) to pursue the project.

I finally found and subscribed to the British V8 Newsletter and purchased a copy of all back issues. The newsletters turned out to be an invaluable source of information. Other MG V8 owners and several of the V8 conversion specialists have also been very willing to share information and provide valuable tips. Like anything else, however, there is more than one way to skin a cat and each converter must decide for himself (or herself) what he/she wants his/her car to be when completed.

PART 3 - In Search of a Suitable Conversion Candidate

You might think that my first choice for a conversion car would be the 1970 MGB already parked in my garage. I considered that option initially, but decided against converting a chrome bumper car. I made that decision not because of the increased difficulty of converting a chrome bumper car, but because I am a bit of a purist. I just couldn't bring myself to cut up and modify a chrome bumper MGB. However, I don't feel that way about rubber bumper MGB's, therefore my search began for a late model MGB.

I enjoy working on BSC's and do most of the work myself. However, I really did not want to get into another conversion involving lots of rust and bodywork. My ideal car, therefore, would be one with a clean, rust free body but in need of a mechanical rebuild. After all, I would be replacing the engine and transmission and rebuilding most of the mechanical systems. I was anxious to find a car and began looking in September 2001. Finding the car of my dreams within a couple hundred mile radius of my home in Pennsylvania, however, turned out to be somewhat more difficult than I originally thought. The fact that I was in a hurry to find a car compounded this problem. Many of the MG's I looked at had all the usual rust problems in the floors, rocker panels, etc. Although I never considered venturing so far for a car, I eventually found, via the Internet, a 1979 MGB in California that sounded perfect. It was advertised as a rust free car in excellent condition, except for the engine which was a bit tired after 117,000 Southern CA miles.

Fortunately, I frequently travel to California on business and arranged a side trip to Pasadena on a Sunday afternoon in October 2001 to see the car. The car turned out to be as advertised; rust free, new interior, but needing some mechanical and cosmetic work. The paint was in fairly good condition, but would probably need a re-spray as part of the conversion to V8 power. Considering the MG a perfect candidate for a V8 conversion, I bought the car and arranged to have it shipped home to Pennsylvania.


PART 4 - Starting the Conversion
As of August 2002, one year after getting the "V8 Virus", I have completed about half of the conversion. The status of work completed on the project to date is summarized as follows:
(1) Removed engine, transmission, and all components in the engine compartment.
(2) Cleaned and/or sandblasted, and painted all parts to be reused, such as master cylinder bracket, fan guard, etc.
(3) Rebuilt and lowered front and rear suspension to chrome bumper ride height using kit from Brown and Gammons in the U.K. V8 bushings were used in the front wishbone arms to tighten up the front suspension. Installed heavy-duty shock valves in the stock shock absorbers and replaced shock oil.
Enjoying this article? Our magazine is funded through the generous support of readers like you!
To contribute to our operating budget, please click here and follow the instructions.
(Suggested contribution is twenty bucks per year. Feel free to give more!)
(4) Removed rubber bumpers and replaced with chrome bumpers using parts scrounged from various sources. Significant cutting and welding is required for this conversion but is a very worthwhile endeavor.
(5) Purchased a rebuilt 3.9 liter Rover engine in Ohio. (Note: I discovered that a V8 engine can be transported in the back of a Ford Explorer, but it might not necessarily be the safest thing to do. Luckily, we didn't have to make any sudden stops on the way home.) The engine was rebuilt with an Isky 270 cam, double roller timing chain, and high volume oil pump.
(6) Purchased a rebuilt GM T5 World-Class transmission and transmission support bracket. I also purchased a Transdapt bellhousing with spacers to mate the T5 to the Rover engine.
(7) Purchased and installed an Edelbrock Performer intake manifold and Holley 390 carburetor. With a low rise air cleaner, this setup only clears the hood with about 1/8-inch to spare. The engine is mounted as far back in the engine compartment as possible, therefore, the air cleaner does not interfere with the hood cross-member.
(8) Sent the front disk brake calipers to Apple Hydraulics for cleaning and rebuilding. The disks showed very little wear and were not replaced. Replaced 23-year old brake hoses with braided stainless steel hoses.
(9) Rebuilt clutch master cylinder. (The brake master cylinder had been rebuilt just before I purchased the car.)
(10) Installed the engine and transmission to see how everything would fit. As expected, some modification to the transmission tunnel was required at two locations. I removed the engine after marking locations where additional clearance was needed.
(11) Modified the side and top of the transmission tunnel to provide additional clearance for the transmission and bell housing. This was not exceptionally difficult and the modifications are not even noticeable.
(12) Cleaned the engine compartment to remove 23 years of grease and grime. Wet-sanded and primed the engine compartment.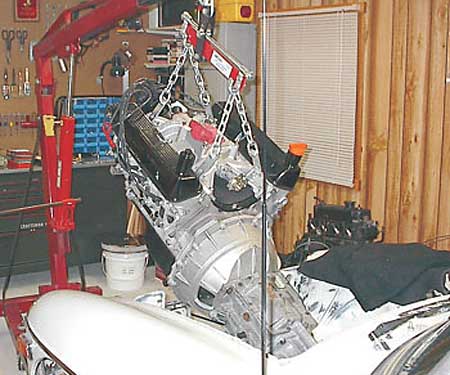 (13) Reinstalled the engine and transmission and checked all clearances.
(14) Purchased clutch, hydraulic release bearing, and RV8-style exhaust headers.
(15) Cut openings in the inner wheel arches for RV8-style exhaust headers.
(16) Removed engine and painted the engine compartment with a semi-gloss black paint purchased from Eastwood.
PART 5 - Finishing the Job
My plans include completing all remaining mechanical work by early next spring and then have the car repainted. I also plan to purchase a new set of 15-inch Panasport wheels and 195/60-15 tires. I figure the hardest part of the conversion is now behind me at this point. Major parts that are needed to finish the conversion include a starter, oil cooler and hoses, oil filter base, radiator, drive shaft, traction bars, exhaust system, and alternator. The carpet had been replaced and seats recovered in leather before I purchased the car, therefore very little interior work will be required. I am looking forward to getting the car on the road next spring. When completed I really think the car will represent what should have been built by the British in 1979 - a good handling car with plenty of power, five speed transmission, cruise control, proper ride height for best handling, and chrome bumpers. Who could ask for more?
PART 6 - Suggestions for Other Wannabe V8'ers

Converting an MGB to V8 power need not an exceptionally daunting task if a 215 BOP (Buick, Olds, Pontiac) or Rover aluminum V8 engine is used. Conversion parts are readily available from several suppliers that make the transplant in a late model MGB virtually a "bolt-in" operation. Readers of this newsletter are well aware that other engine options are available; however, if your skills and patience are limited, stick to the 215 BOP or Rover engine. My advice would be to obtain the best 1977 to 1980 MGB that you can afford. These late model MGB's are the easiest to convert. They can be lowered as part of the suspension rebuild and chrome bumpers can be fitted to obtain the look of an earlier MGB.

Select a T5 transmission with a 0.63 fifth gear ratio for the conversion. With this transmission and 15-inch tires, I will be able to use the stock 3.9:1 MGB rear axle. The estimated engine speed should be approximately 2400 rpm at 70 miles per hour.

Most of the work can be performed in a home workshop with the normal array of mechanics hand tools. However, I have found several larger tools to be indispensable for the conversion and general restoration work including: a MIG welder, air compressor to operate die grinders, metal cutters, and air ratchets, sand blast cabinet, and a shop crane with an Oberg tilt hoist. Installing and removing the engine with transmission attached from an MGB is not that difficult if an Oberg tilt hoist is used. Without one, this task becomes very difficult.

While I am not a mechanic by trade, I have not found the conversion to be terribly difficult. Of course I'm not finished yet and there is still time for Murphy's Law to bite me. If you're interested in completing a conversion, seek out advise from others that have converted their cars and you'll be on the right track. Most MGB V8'ers have been more than happy to discuss their cars with me.


Disclaimer: This page was researched and written by Rod Holderbaum. Views expressed are those of the author, and are provided without warrantee or guarantee. Apply at your own risk.