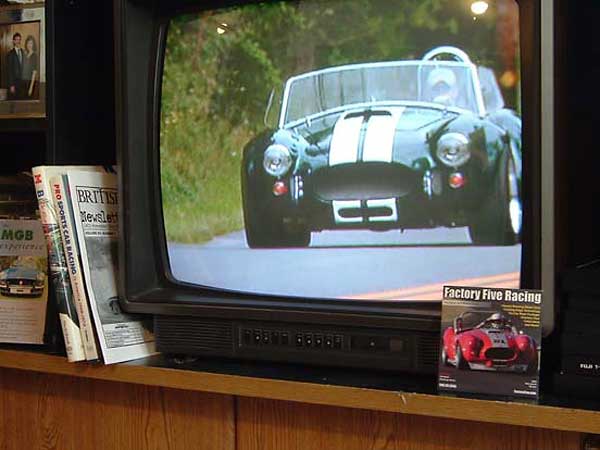 British V8 Video Reviews, by Greg Myer
British V8 Video Reviews
as published in British V8 Newsletter, Volume XIII Issue 3, September 2005
by Greg Myer
No, I haven't seen the latest Star Wars flick. Besides, it doesn't have any British built vehicles with V8's in it. And that's what this is about. We all have our favorite sporty-car centered movies. I watch Steve McQueen's "Le Mans" several times a year. I have SPEED's coverage of most of the American LeMans Series races and the one at LeSarthe on tape. These are some of my favorites, but they're not British V8 specific. What are? Well I've seem a couple that are very interesting:
NAMGBR MG V-8 Register Annual Meet 1998
This was filmed, directed and produced by Kurt Schley. It's an overview of the V-8 Meet in Annapolis, MD July 1998. We start off by meeting a list of characters and their pride and joys. No Hollywood stars here, just honest to goodness car crazies. These guys built and drove their cars here, and proceed to give us the details. There's some very useful information in this first segment. Some nice close-ups of various engines and differentials. Suspension, transmission, clutch, and carburetors are all freely discussed. Pros and cons.
Much of this can be learned by reading the Newsletter, it's true, but the video is fun! You also meet this assortment of people who are likely to be at the next V8 meet you attend. The second segment has these cars in action at Summit Point Raceway. No in car chase scenes, or even close-ups of the cars on the track, but due to restrictions, a distant shot of the cars circling the track and returning. The telephoto lens helped bring it in to view. They sound nice and I'd liked to have seen more action, but not bad. The last segment is a tech session at Glenn Towery's shop. Glenn has years of experience with British cars and V-8 swaps. There's lots of good info here. The whole group is in the shop, so sometimes heads pop up in the way, but there are close-ups and explanations of several important areas on British V-8 swaps. Take notes! This is a homemade video that lasts for 1 hour 40 minutes. But it seemed to go by much faster for me. I rate it a big thumbs up!
Enjoying this article? Our magazine is funded through the generous support of readers like you!
To contribute to our operating budget, please click here and follow the instructions.
(Suggested contribution is twenty bucks per year. Feel free to give more!)
Factory Five Racing DVD
This is a brand new release. It comes from Factory Five the kit Cobra manufacturer. "Is it a sales tool?" You ask. Sure. But it's no infomercial! It has the feel of a well made documentary, produced by a sports car enthusiast. The cars are the stars here and rightfully so. They are fiberglass reproductions of A.C.'s little sports car that Caroll Shelby turned into a V8 world class winner. The Cobra is probably the reason most of us want a British V8 in the first place. Well, there's little history covered in this DVD. Mostly, it's modern building techniques and how strong the cars are. Various engine options and interviews with owners. The first segment is over an hour with lots of info, some helpful to the home builder and lots of beautiful cars... enough so that if this was all there was it'd be well worth watching. But wait - there's more! There's over 2 hours of racing footage, featuring in-car cams, track-side cams, passing, spinning, and re-passing! Some great professional footage! There's a cross-country road trip in two of these cars. North Carolina to Vegas and then race the thing! The last segment on the disc is a shoot out at Summit Point Raceway. Two Cobras dicing back and forth - first one than the other would lead. I showed this portion to my wife. She has been around Summit Point in an IT Porsche at speed (as a passenger.) She said watching this brought it all back and her heart rate increased accordingly. Aerobic video viewing - that may just catch on. I loved this entire video. Close to three and a half hours of beautifully shot sports cars. Oh, by the way, it's free. Check out www.FactoryFive.com for details. This one gets 2 thumbs up... Nope, Deb's here so it gets 4 thumbs up.