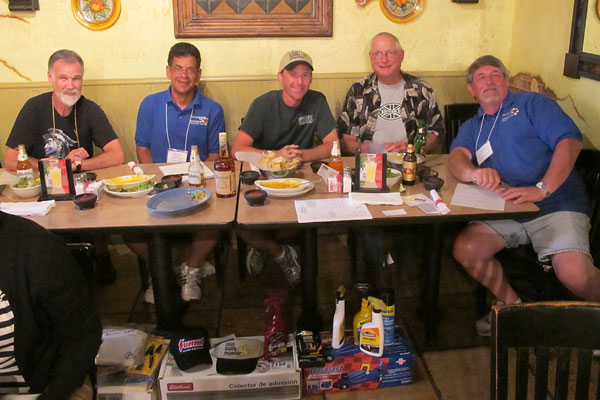 Ric Gregory, Nick Pappas, Jeremy Youngblood, Gene Tollini, and Meet Coordinator Wayne Kube.
In the foreground: loot donated for the BritishV8 Meet annual fundraising auction.


BritishV8 2012 Banquet
as published in BritishV8 Magazine, Volume XX Issue 1, July 2012
A good time was had by all!
Our annual meets traditionally wrap up with a banquet and auction. BritishV8 2012's banquet presented a final chance to enjoy some of that delicious Tex-Mex food the lone star state is so rightly famous for. We gathered at the El Toro Mexican Restaurant at 6pm.

Meet coordinator Wayne Kube welcomed everyone and thanked all the volunteers who pitched in to help him with the meet. (These gentlemen are photographed above.) Wayne also announced the results of the autocross. Carl Floyd won by an absolutely razor thin margin over Ken Hiebert; Calvin Grannis finished a strong third. Gene Tollini rose to announce the results of the Poker Run Rallye.

Rick Ingram rose to make a couple announcements too. I know we all shared in the gratitude Rick so eloquently expressed toward Wayne and his crew. They really did put on a wonderful meet for us. Rick also led us in two toasts:

First, we paused to remember Bob McClain of Florida. I'm not certain how many BritishV8 meets Bob participated in, but we certainly missed him at Palestine. (You may also recall Bob's immaculate British racing green 1980 MGB-LE with Rover V8 engine.)

Second, we drank a toast to Kurt Schley who couldn't make it to Palestine. It's certainly not an exaggeration to say that without Kurt there would probably never have been a "BritishV8" as we know it today, let alone a BritishV8 annual meet. Kurt founded "The MG V-8 Newsletter" and published it for nine years before passing it along to the good hands of Dan Masters. (The publication changed names at that point.) Kurt was also central to organizing our earliest meets, and he hosted the 2000 and 2007 meets too.

After the meal... the auction! As usual, Rick did a wonderful job as auctioneer. Our auctions are important because their proceeds are passed along as seed money for the following year's meet. In this case, funds generated by the auction have been forwarded to Bill Young so that he can cover expenses and deposits associated with the planning of BritishV8 2013 in Lincoln Nebraska.

A good time - and a good meal - was had by all. I know I wasn't the only one a little bit sad to leave El Toro, but then I realized we still had some tires to kick and lies to tell back in the parking lot of the Hampton Inn.


Overheard Conversations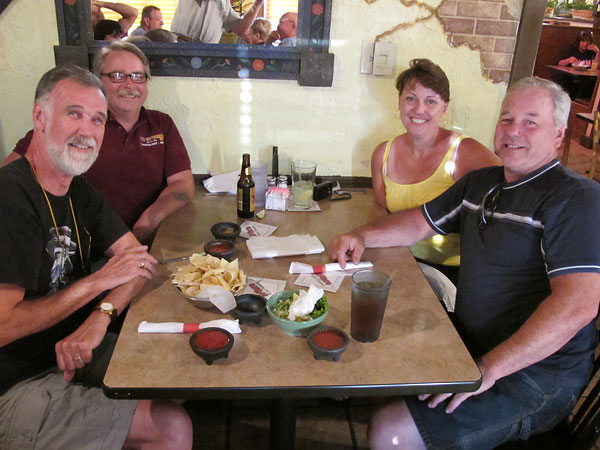 Ric Gregory, Phil McConnell, Brenda Grannis, and Calvin Grannis. Phil and Calvin have both put
Corvette engines in their Triumph sports cars, and they're furiously fast, but in next year's
autocross Brenda may be the driver to bet on. Driving in from Elk Grove California, Brenda
and Calvin took the prize for Furthest Distance Driven (~1950 miles / 28 hours each way.)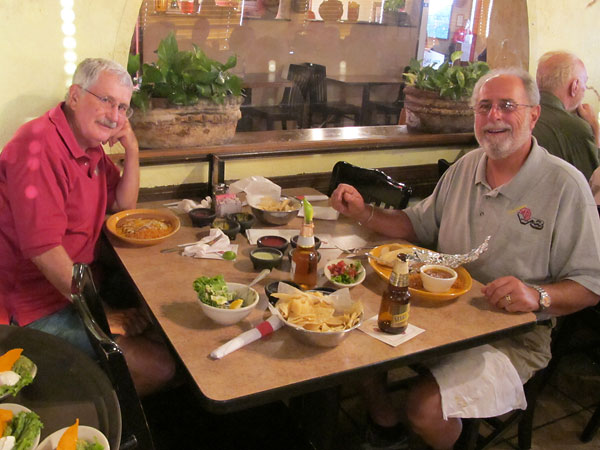 Gary Sandusky and Mark Trosper. Gary is active in the Texas MG Register and he volunteered
to help Wayne and Co. with the meet. He delivered the BBQ smoker and took photos.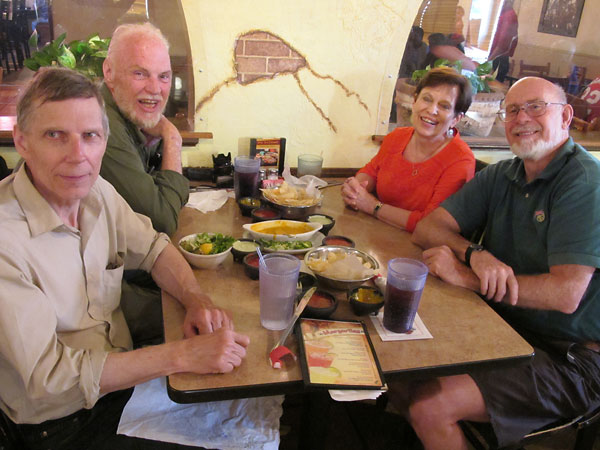 Larry Shimp, Bill Young, Margaret DeGroat, and Steve DeGroat. Bill has volunteered to host
BritishV8 2013. This will be a very busy year for him, because he's also the newly elected
President of The British Automotive Deviant Automotive Sportscar Society, LLC.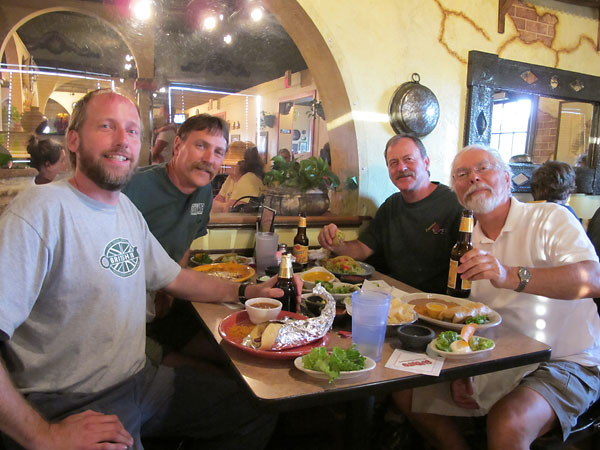 Curtis Jacobson, Carl Floyd, Graham Creswick, and Gord McFaull. Once again, Carl managed
to defend his title in the BritishV8 Sometimes Annual Autocross. Coming from Chatham Ontario,
Graham and Gord earned third place in the Furthest Distance Driven competition (~1230 miles).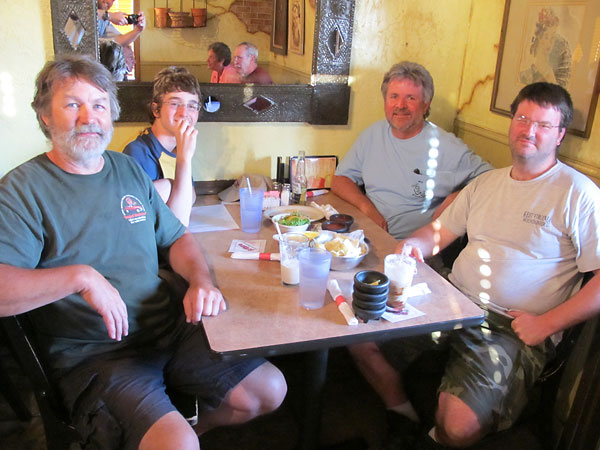 Jim Blackwood, Matthew Blackwood, Dan Blackwood, and Dave Blackwood. These gentlemen are my
personal roadside assistance team. Twice they helped me when I ran out of gas. (The second
time was NOT my fault!) I know it must have frustrated these guys to attend the meet in a
minivan, but they'll be back with some radical new hardware next year.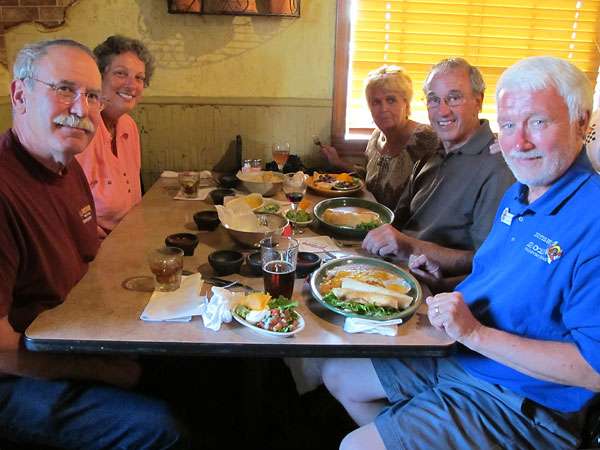 Ted Lathrop, Judy Lathrop, Mary Schills, Paul Schils, and Mike Maloney. Between them, they
brought three BritishV8s to the meet. What a pity they couldn't bring their "other" cars. Ted
is building a Porsche-powered Seven, Paul is refining a supercharged Bonneville V6 powered
Fiero, and Mike is just getting familiar with his new Brunton Stalker (Seven clone). Wow!


Enjoying this article? Our magazine is funded through the generous support of readers like you!
To contribute to our operating budget, please click here and follow the instructions.
(Suggested contribution is twenty bucks per year. Feel free to give more!)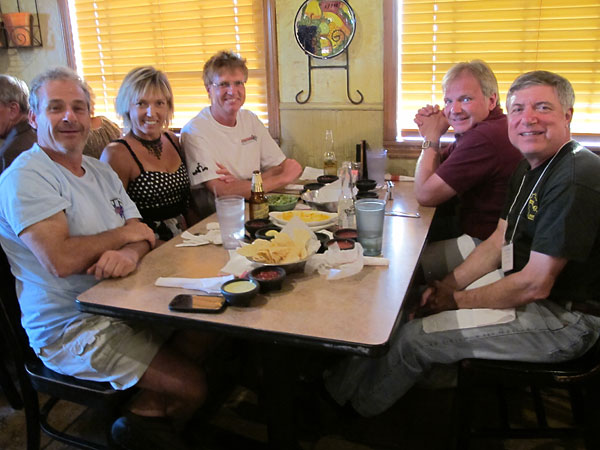 Steve Ward, Katie Ermakovich, Ken Hiebert, Artie Clark and Scott Costanzo. We're all real
proud of Steve's recent appearance on the Speed Channel's show "My Ride Rules" where his
LT1 powered MGB was clearly the highest-class car presented. Traveling from Toronto, Ken
and Katie earned second place in Furthest Distance Driven (~1430 miles), but Artie would
have wrestled that away from them if he hadn't used an airplane to get from Long Island to
Scott's house in Ohio. Artie is another of our regulars who doesn't yet own a British car.



Rocke Amonette, Linda Amonette, P.J. Lenihan, Ken Nicks, Merv Hagen, and Marilyn Hagen.
Rocke is getting started on installing an aluminum V8 in his MGB. His previous experience
includes building and racing Spridgets! PJ overcame a car accident related knee injury to
to make it to the meet this year; nothing was going to keep him away. Ken is finishing a 1951
Jaguar MkVII V8-conversion, but it wasn't quite ready so he drove his MGB V6. Merv went
the other way. He left his MGB V8 at home and instead drove his Jaguar E-Type V8.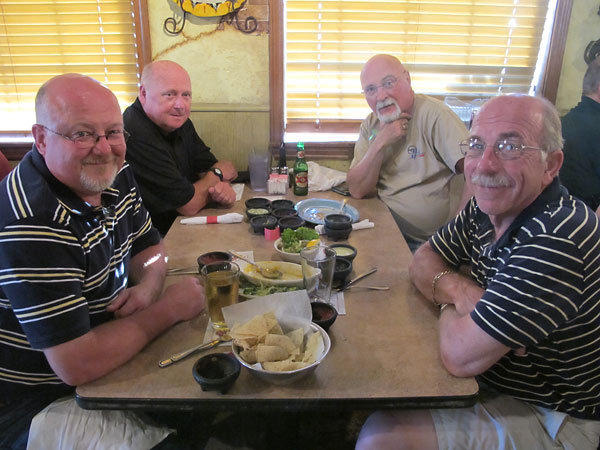 Steve Carrick, Lou Kirkman, Dave Kirkman, and Paul Overbeek. Dave has commissioned Mantell
Motorsport to build a 351-powered MGB GT. I think I heard that brother Lou is starting to
think about maybe getting a British sportscar of his own. (His first love is bass boats.)
Paul is still in the early stages of putting a V8 in his TR6, so he flew down for the meet
from Michigan in his Rutan Long-EZ homebuilt airplane.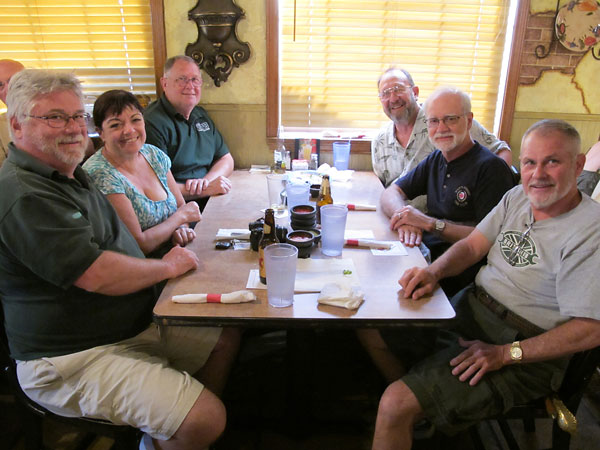 Rick Ingram, Jean Ingram, Bill Davidson, Don Bonar, Richard Woodley, and Kelly Stevenson.
Bill is the engine builder for the British Numismatics MG RV8 race team. They're campaigning
and first and only SCCA GT2-class MG. (Three wins so far this season!) His friend Don has
restored and now drives a 1935 MG PA.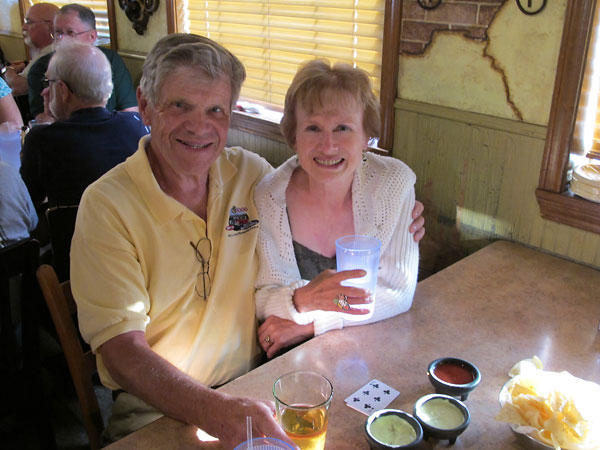 Last but certainly not least, our dear friends Al and Patty Wulf. Al and Patty made the long
road trip to Texas early so they could spend a couple days touring around and visiting family.
Al's pretty little MGB roadster gets better every year. Latest upgrade: Rover 3.9 in lieu of
previous Buick 215. Back at home, Patty has been enjoying her own new Mini Cooper.


Disclaimer: This page was researched and written by Curtis Jacobson. Views expressed are those of the author, and are provided without warrantee or guarantee. Apply at your own risk.
Photos by Curtis Jacobson for BritishV8 Magazine. All rights reserved.