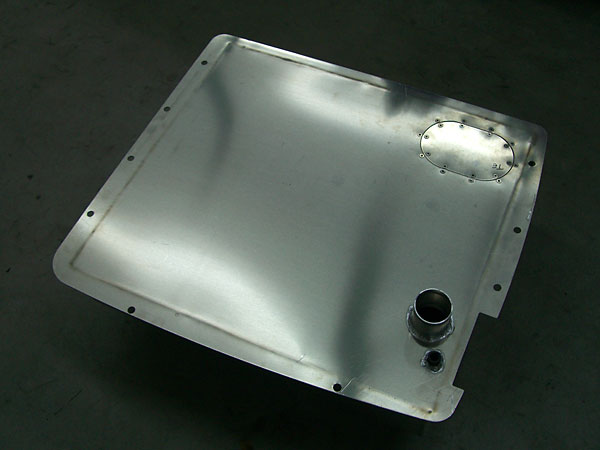 New: Lightweight Aluminum EFI-Ready Fuel Tank for MGB
as published in BritishV8 Magazine, Volume XVIII Issue 1, December 2010
by: Curtis Jacobson
Todd Budde of Custom Rod Works has developed and is now manufacturing lightweight, high capacity, fuel tanks for the MGB model. Weight is only 31 pounds, ready to install. Capacity is a whopping 18 gallons. A network of baffles mitigates fuel sloshing. The new fuel tank is configured to mount in the stock MGB location, but of course it can be centered to accomodate dual exhaust using the same techniques as are commonly used for centering stock fuel tanks.

While these top quality tanks would be a great enhancement for any MGB, their availability will be especially appreciated by the growing number of fuel injection enthusiasts because the new tanks are designed to house high-volume, in-tank fuel pumps within an integral deaerating "swirl pot" and because fuel line return connections are provided for surplus fuel from the injectors. A popular modern AutoMeter fuel level sender is included.

The current suggested retail price is $625.00, including shipping to anywhere in the lower 48 states. All domestic sales are handled through BMC. Todd's own company, Custom Rod Works will be handling all export sales directly.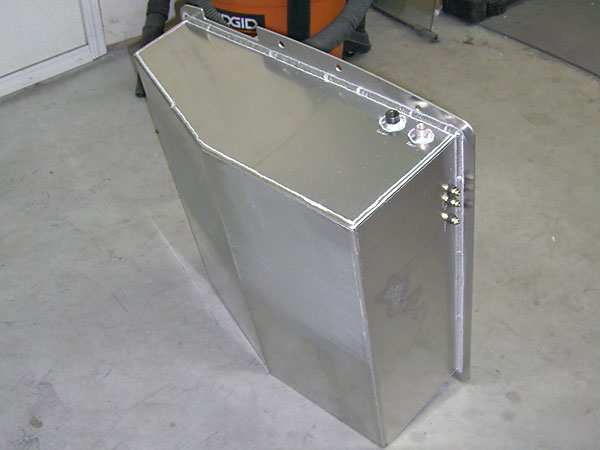 Plumbing and electrical connections on the Custom Rod Works aluminum MGB fuel tank.


Design and Construction Features
The outer shell and all internal components are fabricated from 5052 aluminum. 50-series aluminum alloys include magnesium, and are frequently used in tanks and pressure vessels due to their corrosion resistance combined with good formability and welding characteristics. The bottom shell of the fuel tanks are TIG welded on both inside and outside edges of joints for strength and to ensure elimination of leaks.

A service port on the top of the tank facilates access for servicing the fuel pump and fuel level sender. It features countersunk screws and a neoprene/cork gasket.

Todd's recommendation on venting is to use the late model MG (rear-mounted) charcoal canister. It can be connected to the vent port that's included on the new aluminum tank, located in the same place next to the fuel filler neck as on stock late model MGB fuel tanks.

Because galvanic corrosion would be accelerated by steel components in the fuel system, Todd recommends installation with aluminum or stainless steel fuel line connections. Fuel connections on the tank are 1/4" NPT.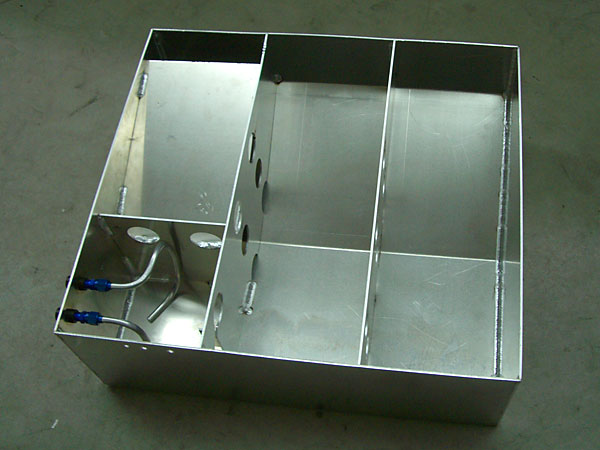 The tanks feature four main baffles, two of which are longitudinal, and a third of which is oriented laterally to
partition off a de facto swirl pot section. A final, slanted baffle directs fuel added at the fuel filler directly
down into the swirl pot section.


Custom features are available on demand. For example, customers might request a special fuel filler relocation, increased output fuel pump, a different fuel sender, different fuel connection locations, etc.

Todd is currently working to create aluminum fuel tanks for other models. As long a stock tank is available to work from, anything can easily be built. Tanks can also be constructed to meet detailed drawings. Todd designs his own parts in a computer aided design program called SolidWorks, and then has component parts laser cut for accuracy and consistency.


The standard internally mounted fuel pump is a Walbro 255LPH, which will support fuel injected engine applications
up to 400hp at 80psi. The standard internally mounted fuel sender is produced by AutoMeter, and it produces a
240 to 33 Ohm resistance output.


Enjoying this article? Our magazine is funded through the generous support of readers like you!
To contribute to our operating budget, please click here and follow the instructions.
(Suggested contribution is twenty bucks per year. Feel free to give more!)



The Custom Rod Works aluminum fuel tank, as installed on Steve Lagoy's Fuel Injected MGB.





Disclaimer: This page was researched and written by Curtis Jacobson. Views expressed are those of the author, and are provided without warranty or guarantee. Apply at your own risk.

Photographs by Todd Budde for BritishV8.org. All rights reserved.