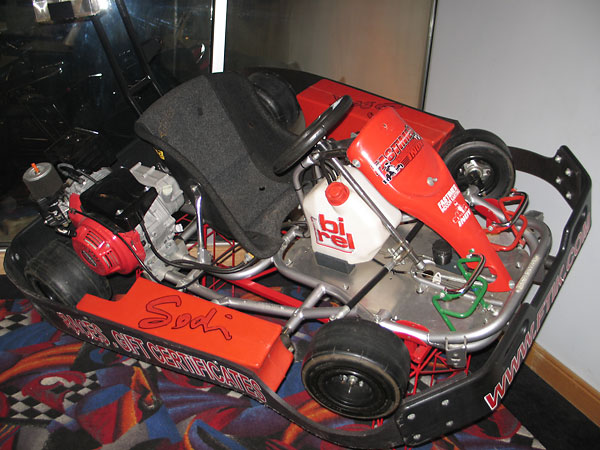 Sodi GT2 kart, manufactured in France by Sodikart, equipped with a 7hp Honda motor.


BritishV8's 2010: Fastimes Indoor Karting and the 2010 "Indy 50"
as published in BritishV8 Magazine, Volume XVIII Issue 1, December 2010
by: Curtis Jacobson
Participants were divided into teams, which competed in an Enduro composed of multiple heats.

Graham Creswick noted: "Pete 'el Stig' Mantell, I believe, had the fastest lap time of 24.367 sec. That translates into an average 25mph lap time. When you're out there, it feels like 60mph."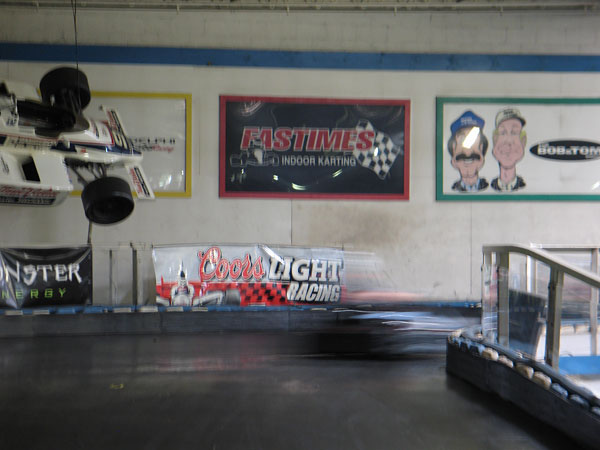 Fastimes claims their karts are capable of reaching nearly 40mph on their indoor racetrack!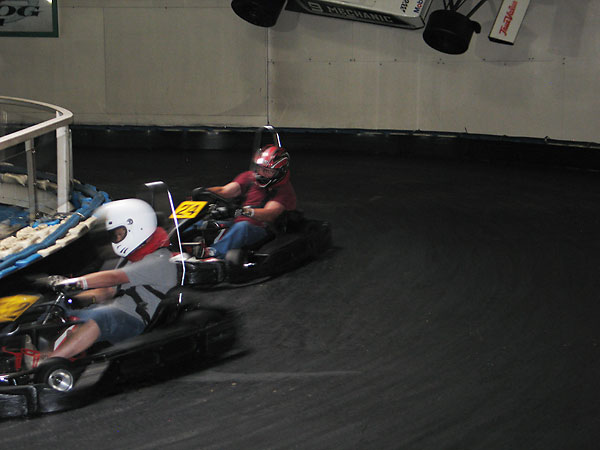 The Fastimes track features a bi-level design, about 900 feet in length.


Can I get a drumroll, please?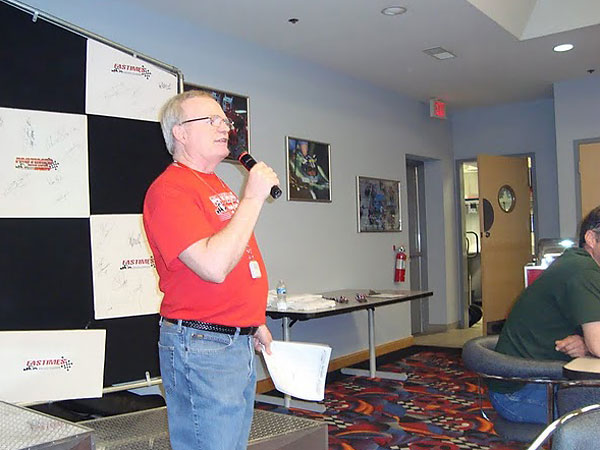 The Fastimes manager announcing race results. Autographs on the wall behind him belong to Indy 500 drivers
who've raced indoor karts at the Fastimes-Indy facility. Specifically, Indy 500 winners: Mario Andretti (1969),
Buddy Lazier (1996), Eddie Cheever (1998), Kenny Brack (1999), Helio Castroneves (2001, 2002, and 2009),
Buddy Rice (2004), Sam Hornish Jr (2006), Dario Franchitti (2007 and 2010), and Scott Dixon (2008). Other
Indy 500 drivers who've driven at Fastimes and signed the wall of fame include John Andretti, Sebastian Bourdais,
Ed Carpenter, Derek Daly, Sarah Fisher, Scott Goodyear, Robby Gordon, Bruno Junqueira, Vitor Meira,
Johnny Parsons Jr., Will Power, Tomas Scheckter, Scott Sharp, Tony Stewart, and Roger Yasukawa.


Enjoying this article? Our magazine is funded through the generous support of readers like you!
To contribute to our operating budget, please click here and follow the instructions.
(Suggested contribution is twenty bucks per year. Feel free to give more!)
Please Stand for the National Anthem of Canada
O Canada

O Canada!
Our home and native land!
True patriot love in all thy sons command.

With glowing hearts we see thee rise,
The True North strong and free!

From far and wide,
O Canada, we stand on guard for thee.

God keep our land glorious and free!
O Canada, we stand on guard for thee.

O Canada, we stand on guard for thee.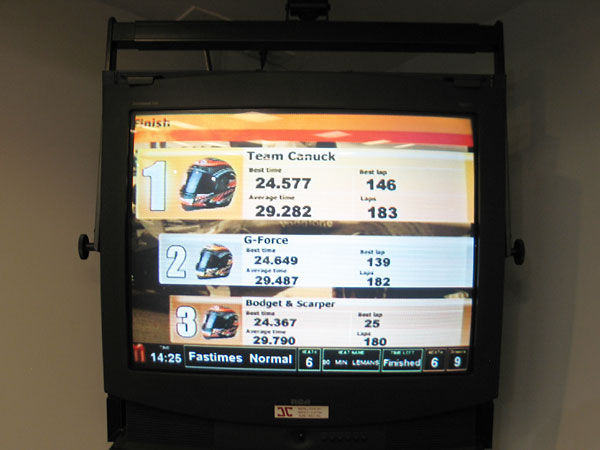 Team Canada wins The Indy 50! (50 kilometers = 31 miles = 183 laps of the indoor track.)


1st Place: Team Canuck (Kart #28: Ken Hiebert, Katie Ermakovich, Graham Creswick, and Gord McFaull.)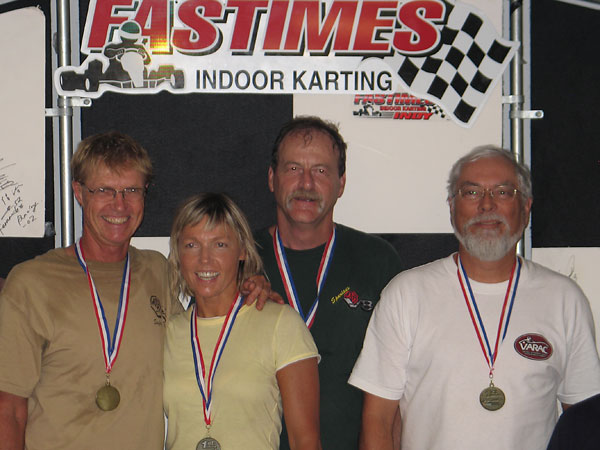 Biographical information: Ken and Katie joined an outdoor karting racing league to train for the Indy 50.
Gord McFaull just might be a ringer, judging from his Vintage Automobile Racing Association of Canada
t-shirt. Graham Creswick brings a different kind of driving experience to fill-out the Team Canuck
curriculum vitae; having served in the engineering department of International Trucks.


2nd Place: G-Force (Kart #29: Todd Noll, Paula Ward, Steve Ward, and Merv Hagen.)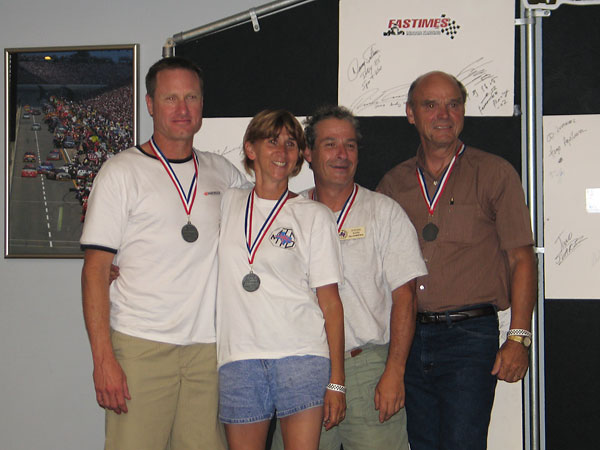 Biographical information: G-Force is also an international team: Paula and Steve Ward live in Fort Worth, Texas.
Kidding aside, Steve is an exceptional driver who was born and raised in Montreal Canada. Maybe there's
something in that Canadian water beer. Todd Noll participated in our track day at O'Reilly Raceway Park
(formerly known as Indianapolis Raceway Park) where he drove his rented Cadillac at speeds well in excess of
40mph - closer to 140mph, but who's counting! - to practice for the Indy 50. Merv Hagen anchored this well
balanced team with his cool headed, red hot driving style. Speaking of style, Merv even looks stylish in pink...


3rd Place: Bodget and Scarper (Kart #32: Pete Mantell, Ali Lovett, Andy Lovett, and David Schafer.)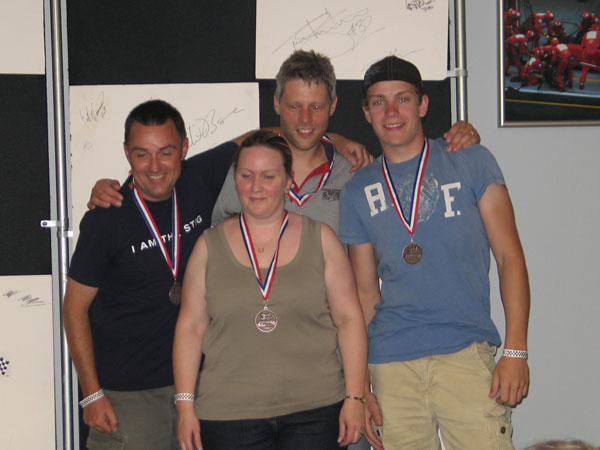 Biographical information: this is also an international team! Pete moved here from England, and his friends
Ali and Andy came over on their vacation to visit him and attend our meet. Notice Pete's obnoxious "I am the
Stig" t-shirt; he certainly drove like he was trying to prove it, and in doing so Pete set the quickest lap time
of the day. David is Pete's All-American stepson, and he's a fine driver too!


Other Teams
Underdogs (Kart #40: Bill Young, Peter Smith, Gary Walker, and Dave Burstyn.)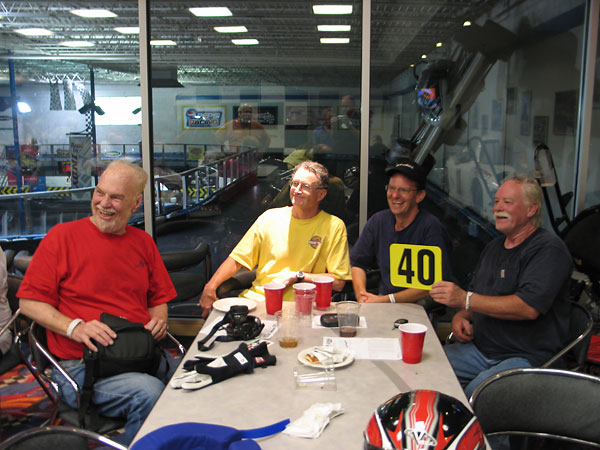 Oblivious to the flying racecar that's about to crash through the window behind them,
The Underdogs get special praise for coming from behind to finish, well... less behind.


Rookies (Kart #34: Bill Yobi? Who else?)
(No team photo available.)


Caffeine (Kart #23: Steve DeGroat, Tim Duhamel, Max Fulton, and Dave Germain.)
(No team photo available.)


Umpstead (Kart #36: Dan Blackwood, Scott Costanzo, Artie Clark, and Matthew Pierce.)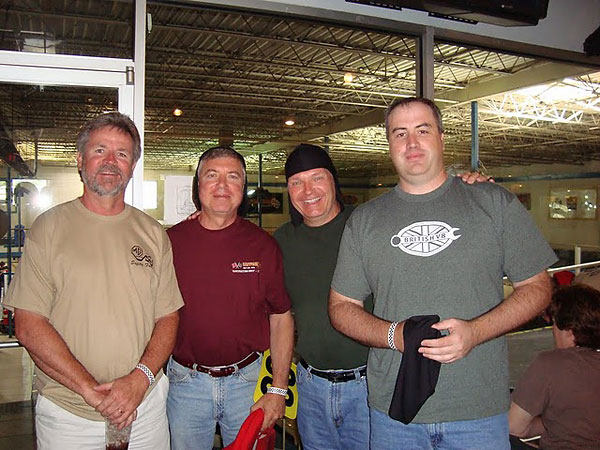 Dan Blackwood notes: "Our team was Team Umstead, named after the wild goose chase we
participated in at the Durham meet, Artie had a GPS!" (There are two Umpstead state parks
in North Carolina, and Artie's GPS led us to the wrong one.) Artie's GPS didn't help Team
Umpstead find the Fastimes finish line either, but these good-natured guys are still winners!


Trickster (Kart #24: Samantha McConnell, Phil McConnell, Ace Kulinski, and Les Shockey)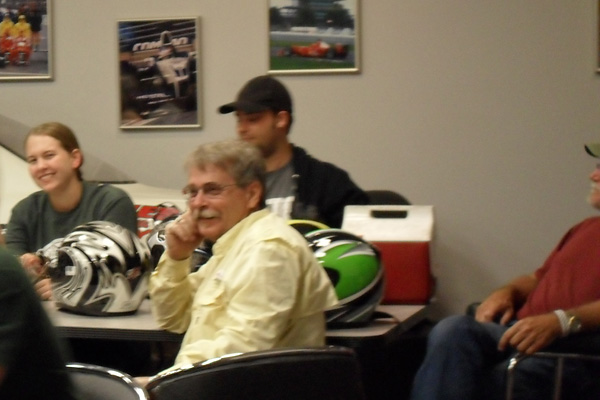 Team Trickster was anchored by Phil McConnell and Les Shockey, two men who've put especially
large and powerful engines in their Triumph sportscars. Phil's college-age daughter Sam and her
boyfriend "Ace" rounded out the team; these two might have been a whole lot faster if they hadn't
struggled with a defective shoulder strap. At least that's their story and they're sticking to it.¹


Spurious Ones (Kart #21: Mike Moor, Steve Carrick, Rick Ingram, and Jean Ingram.)
(No team photo available.)


Notes:
(1)

A defective shoulder strap did this. Yeah. Right. (We were all young once;)


Disclaimer: This page was researched and written by Curtis Jacobson. Views expressed are those of the author, and are provided without warrantee or guarantee. Apply at your own risk.
Photos by Curtis Jacobson and Artie Clark (photos "AE" and "AK") for BritishV8 Magazine. All rights reserved.