British V8 Meet 2007 - Nelson Ledges Track Day
as published in British V8 Newsletter, Volume XV Issue 2, September 2007
by: Max Fulton
The British V8 2007 meet track day at Nelson ledges was a blast! However, first we had to get there!
I'd volunteered to bring lap timing equipment. When I realized too late that I'd left one of the Hot-Lap timer cords still zip-tied to the "B-Stinger", (our Vintage SVRA MGB racecar, for which I'm the absent-minded Crew Chief,) I needed to make a detour. I'd brought lots of "racing toys" to play with at Nelson Ledges: a tire pyrometer, an infrared thermometer, pressure gauges, Hot-Lap timers (two!), and even an in-car camera. (Don't get too excited - the camera never worked!) A late night run to the "local" Walmart (actually we ended up two "corporations" over!) yielded a phone cord, but now I needed the crimp-on tool to reverse the ends (to match the timer).
A quick trip to Home Depot the next morning provided a terminal and crimping tool. I did the mod in the store parking lot, just in case it didn't work and I needed another tool! I even managed to join the tail end of the convoy heading to the track.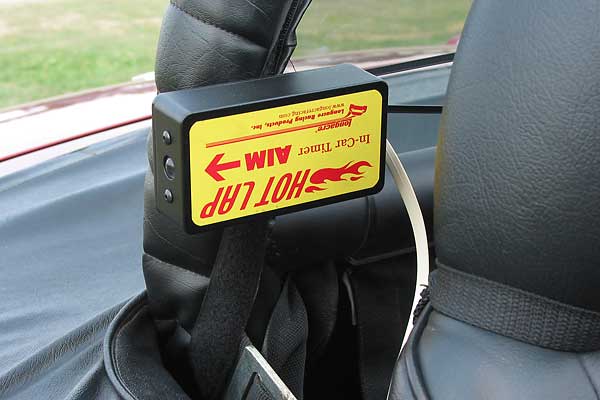 This is what a Hot-Lap in-car electronic timer looks like...


I assumed this was the tail end of the convoy, but soon we were stopping and maps were being drawn out! Apparently the previous briefing of "don't go that way, let's just go this way" had caught a few people out. I also don't believe everyone was prepared for how far away the track was (about an hour's drive).
Well, knowing where I was going (at least this time!) a small convoy continued-on with me. However, I soon found myself the 'tail end" of the convoy as my fuel pump began to act up! ("Didn't I change this five years ago?") Many sputters and stops, bangs, and then the ultimate filing of points managed to limp the car along to the track after some good Samaritanizing by Graham Creswick. (Editor's note: Max's MGB still has its 4-cylinder engine and S.U. fuel pump.)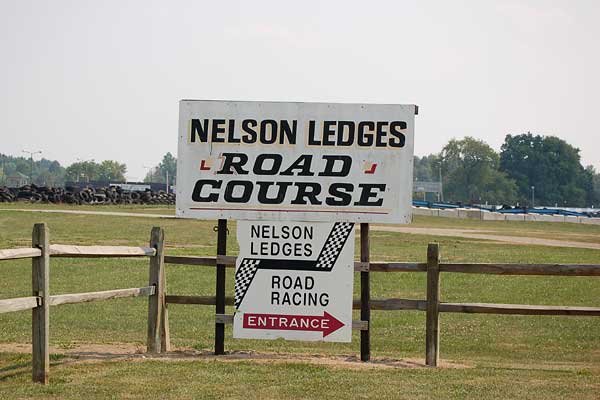 As Graham and I arrived at the track "late", we couldn't shortcut across the track, we had to take the scenic route around the track and over the bridge to get into the paddock area. Let me tell you-this entrance does NOT make a good first impression! The crossover bridge looks like something from a Dirk Bogarde WWII movie: the pavement is entirely rubble! Well, we weren't going to be racing ON the bridge so we continued forth to join the others.
Pete Mantell of Mantell Motorsport (who specializes in Ford MGB V8 conversions) was sponsoring the track day. (That meant CHEAP track time for the rest of us - just $75 to play all day!) Pete conducted the explanation of track rules, etiquette, amenities, etc. He then handed over to Bill Yobi who'd driven the track before. Bill gave the actual "track talk", explaining the corners, braking areas, expected speeds, and the all-important "driving line".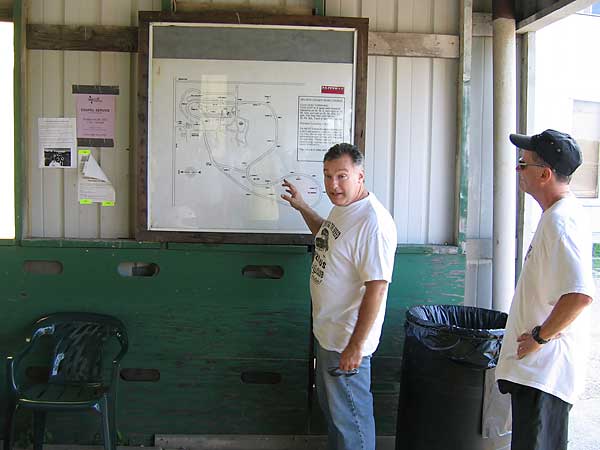 At the driver's meeting, Bill Yobi provided an explanation of the track. Peter Smith looked on.


Once the cars were unloaded of anything loose, people began to hit the track. I wasn't going anywhere with a dying fuel pump - track or hotel - with my own car at the moment, but I didn't want to miss out on the first rush onto the track! I hopped into Carl Floyd's Buick 215 V8 MGB and did a couple "reconnaissance" laps with him. (I also tested one of the Hot-Lap timers.)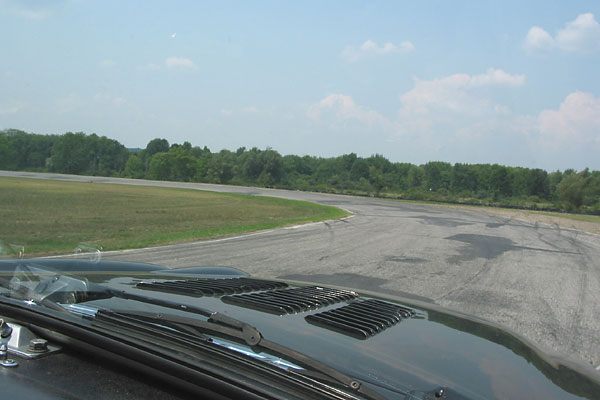 The track (as seen here from Pete Smith's passenger seat) could stand repaving.


Well, Nelson Ledges is a neat racetrack and has some challenges, but it
really
needs repaving! You don't know whether to avoid all the patch spots, or stay on them as that's obviously the driving line! Ultimately you learn to look beyond them and just visualize the course but the first few circuits are rather unsettling! Carl's (shaved Toyo) tires stick like glue, though, and even with his complaints of my extra bulk in the car, he seemed to turn a pretty good starting time: 1 minute 43 seconds.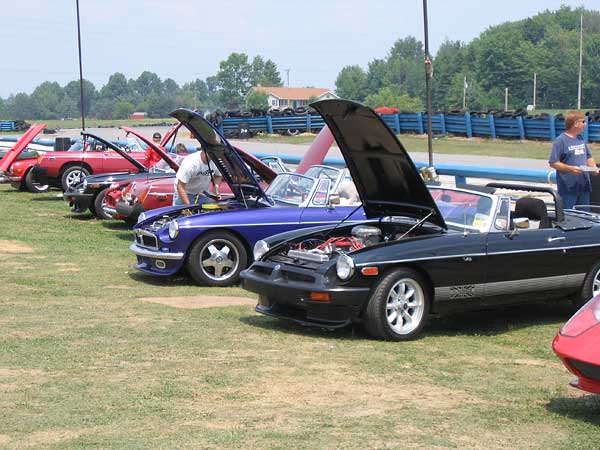 Mike Moor (at far right, the owner of the blue Buick 300 powered MGB) fortunately had a spare fuel pump.


A couple of twenty minute sessions later (as we were going out in alternating flights), I managed to borrow and install Mike Moor's spare solid-state fuel pump. The pump made 6 psi, however, so would drown the carb on start up! No turning the key on while buckling in: pump pedal, turn key, FIRE!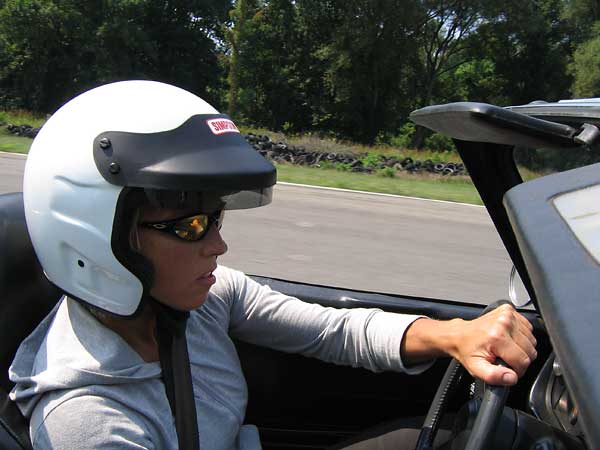 Katie Ermakovich, driving Ken Hiebert's LT1-powered TR6. With Ken driving, the car turned a 1:38.9


So, I made it onto the track, and... It's different in a 4-cylinder! The handling sections were the same and I did well to keep on the tail of most of everyone else (including Ken Hiebert and his high-power green LT1-powered TR6). On the LONG back straight I just, well... waved!
But the consolation prize is that I got to take "The Kink" flat out! (The V8's would have to let up or tap brakes because they would be approaching it at 110mph.) I took it at 90-95 mph (with the overdrive kicking in to keep the revs down) and just flew right through there... into the braking zone! A real thrill. Until you realize you aren't stopping soon enough; "New brakes my ass!" I scream into the helmet. Geez, I really thought I could stop better! (I'd just upgraded to V8-sized pads and new drilled/slotted rotors!)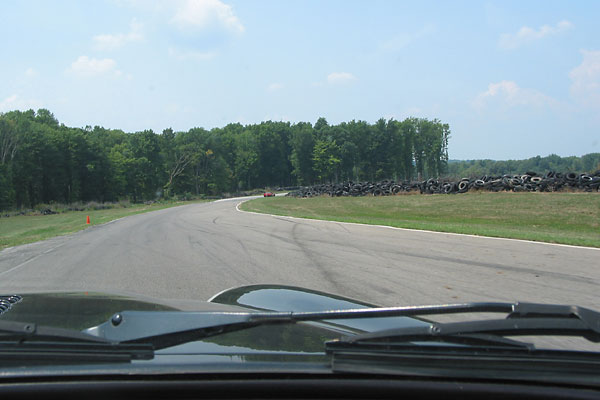 The Nelson Ledges corner workers thoughtfully put out cones at suggested braking points and apexes.


After three "near-miss" excursions after the Kink, I finally realized that maybe MY braking zone was just going to have to start a little earlier! (Like about 100 feet!) They'd set cones up on the track to mark braking spots and apexes (inner/outer). These helped. They especially helped when you actually disciplined yourself to use them! Late in the day I wanted to say thanks to Graham for his fuel pump assistance, so we borrowed a helmet and he hopped in. We were hoping to get some camera footage, shooting backwards, alas (as I was destined to be passed!) but the camera didn't like any of the tapes I fed it and it beeped off. So, we entered the track full blast.
I then proceeded to yell at Graham about what the cones were for, how you should hit this one, then that one, then shift here, then brake, etc. Next thing I knew, I'd done a really smooth lap! Probably my best on the whole day! Graham was impressed with the handling of my car, but I think it was just the "passenger phenomenon". Earlier when I'd been in the car with Carl and he'd turned a 1:43, I figured he'd only go a few seconds faster (as we seemed to be blitzing along!) By the end of the day Carl had gone 1:30.5 (on a VERY limited number of laps, due to incessant Black Flagging. Carl had an oil leak that he chased to valve cover gaskets, then dipstick, then... It never subsided and he only got 8 laps on the whole day.)
NOT that everyone else was fairing much better! Bill Yobi, our King of the Track, was fighting some tuning issues. He borrowed my timing gun and found a little speed. (He got down to 1:35.6) but ultimately he got parked when he lost a bolt on his clutch slave cylinder and couldn't shift.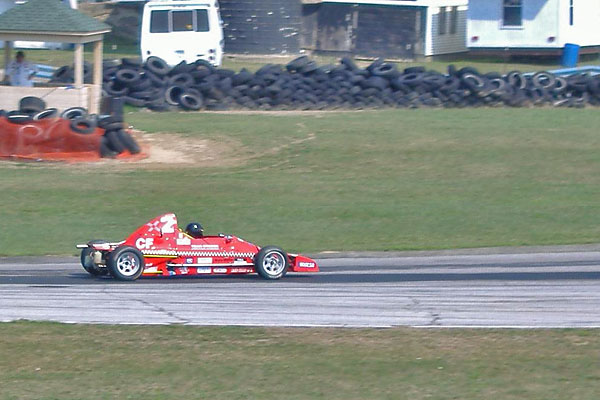 Pete Mantell's Lola Formula Ford got black-flagged after about five very quick laps. (It was running about 1:20 or 1:22.)


Pete Mantell was apparently having fuel pick-up issues, and was also running poorly (diagnosed later as a breaking-down MSD ignition system.) Going into the last sessions of the day, he was standing on a 1:34 and had already had to retire his Formula Ford (oil leak from a valve cover.)
Mike Moor, who pretty much set a fast time and then said "I'm going to get something to eat" was sitting on a 1:32.5 and was fast man for most of the day (until Carl had snuck in another "Maybe it's stopped leaking NOW?" lap and hit his 1:30.5.) Turns out Mike had a rather pedestrian set of tires - the durometer showed them not to get very soft OR sticky as they heated up! - and he didn't think it too likely he'd go much faster.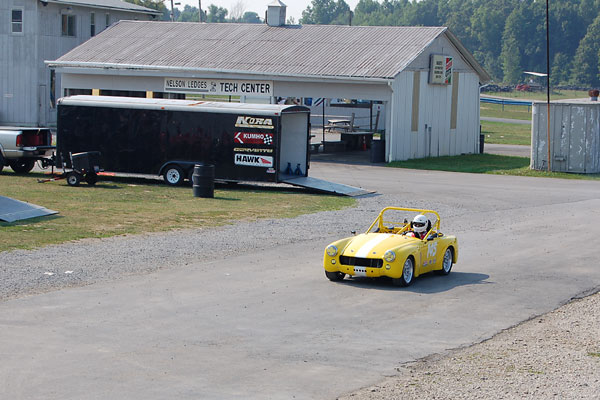 Brian Kraus's real race car, the "RX-Midget" on its way into action. His wife stopwatch-timed him at 1:25.66
(Pete Mantell, in his Ford 302 MGB, was our fastest electronically-timed driver at 1:29.9.)


So, it was down to Pete. It was 1:30pm and they'd stopped indicating time on, time off the track: they just called the track open, go when you want. We set up the hot lap timer on Pete's car and he went off to give it his best.
Well, Pete did it! His last lap he hit 1:29.9! Knowing this (you can see the timer from inside your car), he chose to park it and sit on his laurels.
For my part (in a 4-banger) I'd done something similar. Earlier Pete had stopwatch timed me at 1:40.5 for some consistent laps. So I went out again, worked on being smoother, and broke 1:40 for two laps. Then, remembering I had an 11-hour drive home I chose to park it.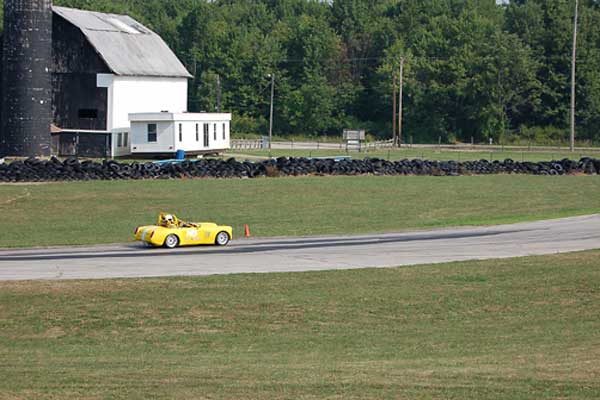 My apologies to folks I didn't get timed! Those I did time were because I knew they were motivated to go fast, (didn't have their own timer,) and would keep trying until they admitted defeat! (Or were black-flagged off the course!)
Wow - what fun we had! Even in these litigious times - Nelson Ledges had allowed us to run free (waiver signed, natch), and had even set up cones and corner workers to assist us!
It's hard to be organized with so much "freedom". We started out with over a dozen of us hitting the track the first session, and yet with the track rented and paid for until 4 pm, by 2 pm we were done. It was hot, the cars were getting beaten-up, and it didn't seem we were going to learn much more by continuing to circuit the course!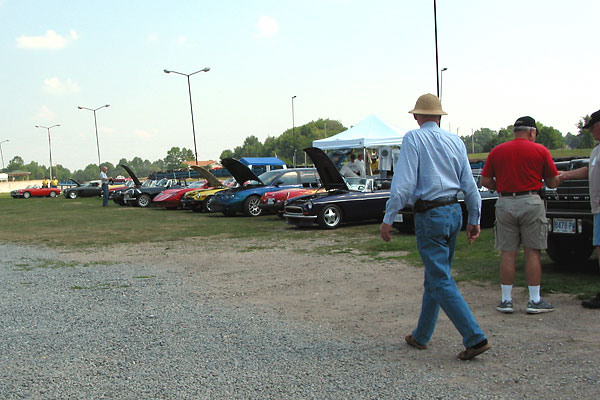 By 2pm most of the drivers were tired... but it was a good kind of tired.



Disclaimer: This page was researched and written by Max Fulton. Views expressed are those of the author, and are provided without warrantee or guarantee. Apply at your own risk.
Photos by Denise Kraus, Sue Mantell, Ken Hiebert, and Curtis Jacobson for The British V8 Newsletter. All rights reserved.