British V8 2007 Autocross and Weigh-In Results
as published in British V8 Newsletter, Volume XV Issue 2, September 2007
compiled by: Curtis Jacobson
DRIVER
FROM
CAR
ENGINE
AUTO-X TIMES (personal best in bold)
WEIGHT
(FL, FR, RL, RR)
Carl Floyd
TN
79 MGB
Buick 215
35.29
34.67
34.70
34.00
2327
(591, 564, 574, 598)
Graeme Harvey
ONT
80 MGB
Rover 3.5
37.05
36.57
35.64
35.57
2424
(599, 659, 595, 570)
Cade Schafer
MI
71 MGB
Ford 302
39.80 *
36.98
37.14
36.30
36.75
2483
(645, 686, 563, 589)
Bill Yobi
OH
79 MGB
Olds 215
38.77
37.37+1
36.78
(not weighed)
Max Fulton
NC
?? MGB
MG 1800cc
37.28
36.92
36.93
(not weighed)
Scott Costanzo
OH
68 MGB
GM 3.4 V6
42.22
40.36
38.91
39.80
39.15
2113
(542, 539, 513, 519)
Steve Carrick
MI
74 MGB
Ford 302
2209
(593, 610, 507, 500)
Don Coleman
MI
79 MGB
Rover 4.9
2228
(559, 580, 541, 547)
Don Nicholls
ONT
77 MGB
GM 3.4 V6
44.14
42.18
42.06
42.62
39.53
2246
(571, 593, 552, 530)
Graham Creswick
ONT
76 MGB
Ford 302
2267
(588, 617, 532, 530)
Peter Smith
ONT
76 MGB
Rover 3.5
44.23
42.82
41.93
2318
(582, 576, 565, 595)
Dennis Williams
OH
79 MGB
Rover 3.5
40.11 *
39.05 *
40.68 *
39.85 *
2348
(577, 583, 586, 601)
Mikel Moor
IN
78 MGB
Buick 300
39.01
38.25
38.28
39.94
2394
(574, 593, 619, 607)
Martyn Harvey
ONT
80 MGB
Rover 3.5
47.04 *
43.83
40.77
38.15
2424
(599, 659, 595, 570)
Kevin Pesant
ONT
79 MGB
Rover 3.5
2426
(633, 602, 566, 625)
Joe Schafer
MI
71 MGB
Ford 302
38.73 *
40.05
38.37
38.08
2483
(645, 686, 563, 589)
Jim Fisher
OH
77 MGB
Buick 215
2543
(626, 608, 639, 671)
Les Matthews
ONT
76 MGB
Rover 3.5
2585
(with driver)
Steve Ward
TX
80 MGB
GM LT1
44.06
37.94
39.77
38.27
38.85
2600
(672, 730, 623, 575)
Pete Mantell
IL
69 MGB
Ford 302
38.01
37.81
(not weighed)
Jim Blackwood
KY
71 MGB
Olds 215
58.84
38.84
37.83 *
38.01 *
40.19
(not weighed)
Kelly Stevenson
TN
78 MGB
Ford 302
67.83
38.25
(not weighed)
Paul Schils
WI
73 MGB-GT
Buick 215
2308
(555, 578, 584, 591)
Larry Shimp
NJ
68 MGB-GT
Ford 302
40.07 *
58.48 *
39.30
2440
(610, 624, 607, 599)
Steve DeGroat
GA
70 MGB-GT
GM 3.1 V6
2444
(589, 619, 608, 628)
Matt Kline
OH
68 GT6
Ford 302
44.63
48.86
42.55
44.08
43.69
2490
(662, 739, 589, 499)
Dan Blackwood
KY
6? TR4A
TR 2138cc
46.45
43.52
45.66
42.53
40.83
(not weighed)
Dale Knapke
OH
72 TR6
Ford 2.3 I4
40.53 *
41.44
38.06
38.24
38.16
2393
(576, 579, 608, 630)
Ted Lathrop
MI
76 TR6
Chevy 350
2475
(626, 607, 606, 638)
Les Shockey
VA
69 TR6
Ford 408
2549
(603, 651, 654, 640)
Ken Hiebert
ONT
72 TR6
GM LT1
60.99
41.58
39.56
39.29
39.13
2769
(666, 657, 702, 743)
Katie Ermakovich
ONT
72 TR6
GM LT1
53.65
48.86
42.55
44.08
43.69
2769
(666, 657, 702, 743)
Dave Massey
MO
80 TR8
Rover 3.5
2565
(711, 765, 543, 546)
Richard Moor
IN
69 Avenger
Buick 3.8 V6
2331
(368, 449, 770, 746)
Asterisks in the Auto-X results indicate off-course excursions, so those times don't count. Only one 1-second "cone" penalty was assessed all day. Some drivers took as many as seven runs, but I decided to only report the first five results UNLESS later scores were faster than earlier scores, in which case I discarded the less competitive results.
Different autocross lay-outs favor different vehicles and drivers. This course prominantly featured a fairly tight figure "8" plus a few more turns to get into and out of it... but no long stretches, no shalom, and no particularly narrow sections. Many drivers reported that they didn't use their brakes at all on-course, and most drivers did the course in just one or two gear shifts.
The conventional wisdom is that driver skill and tires are the two keys to autocross success. No doubt that's true. But in addition to being an excellent driver and also having sticky, shaved (but three year old) Toyo tires, I think our champion Carl Floyd is clever about physics too. Although other drivers have more powerful or lighter cars, Carl has carefully avoided adding weight to components that act as flywheels. He runs a lighter and smaller diameter clutch and pressure plate than most other V8 owners, and his flywheel has been lightened on a lathe. He also runs 14" wheels and tires where other guys have gone larger in diameter and width. Carl is an advocate of short-stroke engines because they rev more freely than comparably sized/spec'd longer-stroke engines. (With a stroke of just 2.80", the short stroke of the Buick/Old/Rover 215 was cutting-edge for its day.)
Carl Floyd graciously invited some of his rivals to try out his car on the course - just for fun. Out of respect for his need to drive home, probably none of them drove it at "ten tenths". The results were as follows: Bill Yobi 34.82s, Graeme Harvey 35.48s, and Max Fulton 36.56s. I'm not certain, but I suspect the 35.75 time shown above for Cade Schafer's last run might actually have reflected Cade driving Carl's car.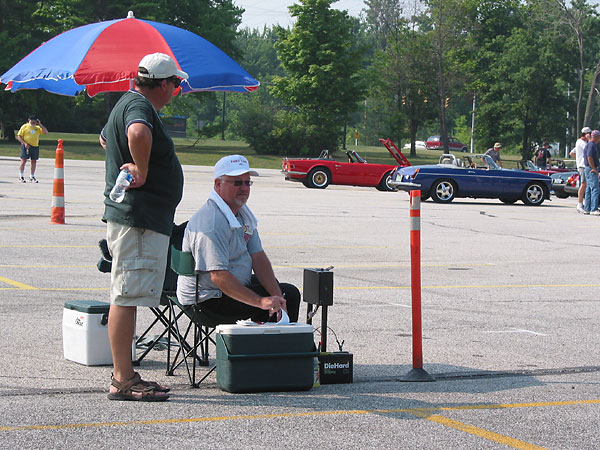 A very skilled and accomplished driver himself, Steve Carrick was heroically self-sacrificing to sit
out there in the scorching heat - minding the timing equipment - all day long. What a great guy!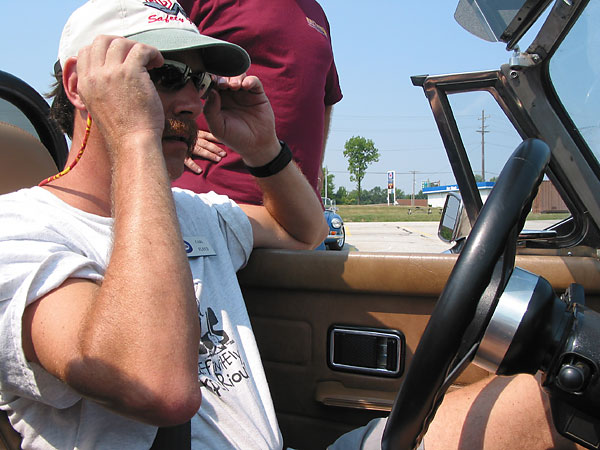 Auto-X Champion Carl Floyd preparing a demonstration for me (in the car) and Bill Yobi (outside).
On this run, he didn't once touch the brake or the clutch pedal. Later he shaved 0.7 seconds,
possibly by ejecting ballast (i.e. ME) and/or by driving the course in second gear instead of first.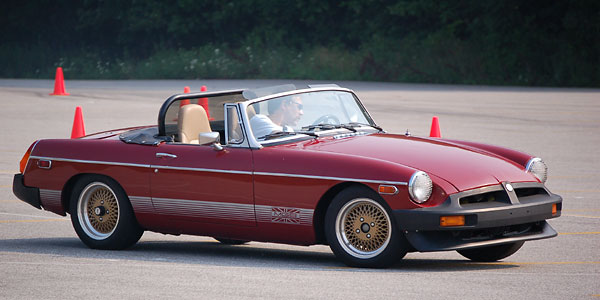 Carl Floyd made scoring Fastest-Time-of-Day ("FTD") look deceptively easy in his 1979 MGB.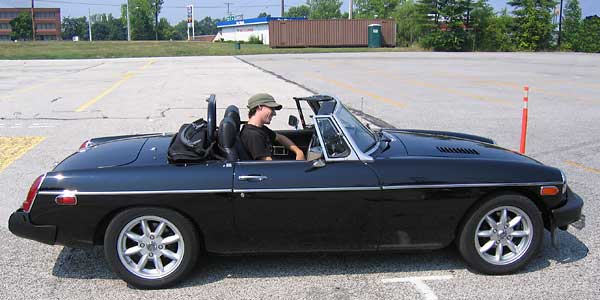 Our second quickest driver - Rookie-of-the-Year Graeme Harvey - preparing to shock and awe.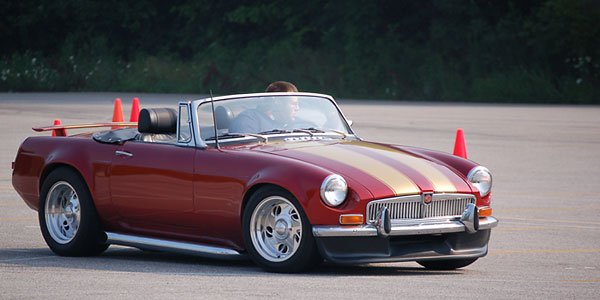 With his pop's Ford powered 1971 MGB, Cade Schafer was our third fastest driver.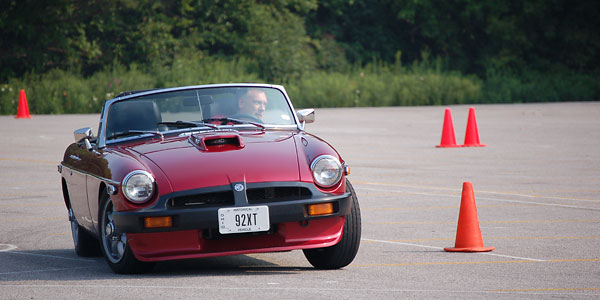 With his Oldsmobile 215 powered 1979 MGBB, Bill Yobi was our fourth quickest finisher.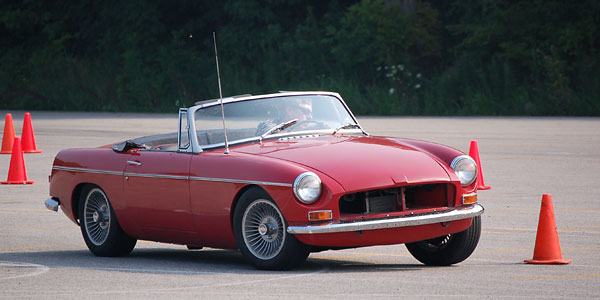 Scott Costanzo's 3.4L V6 powered 1968 MGB was the lightest car we weighed - just 2113 pounds! (wet)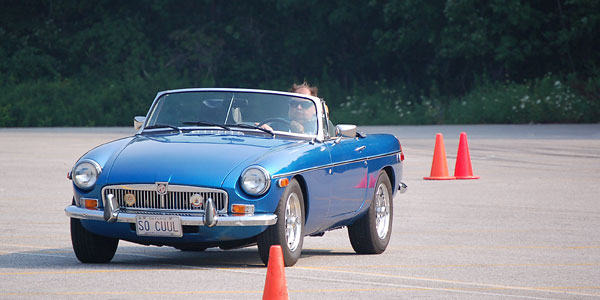 Don Nicholls' 3.4L V6 powered 1977 MGB is another very lightweight car at just 2246 pounds. (wet)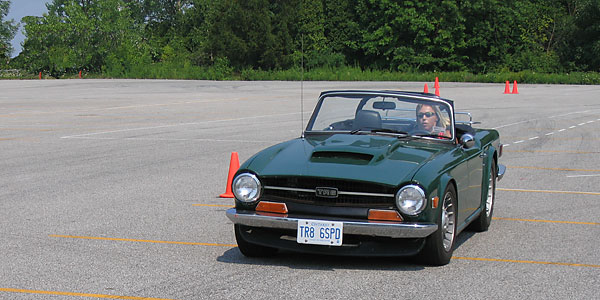 Crowd favorite Katie Ermakovich piloted Ken Hiebert's LT1-TR6 through the course.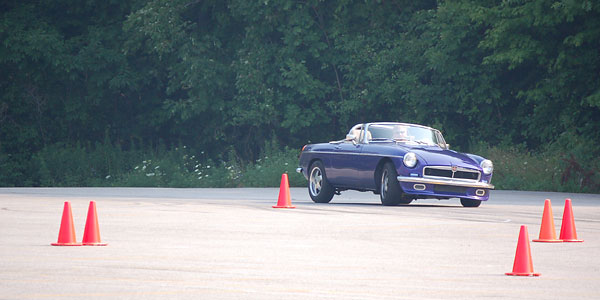 Mikel Moor's Buick 300 powered torque-monster was due for new tires... so he really tore up the old ones!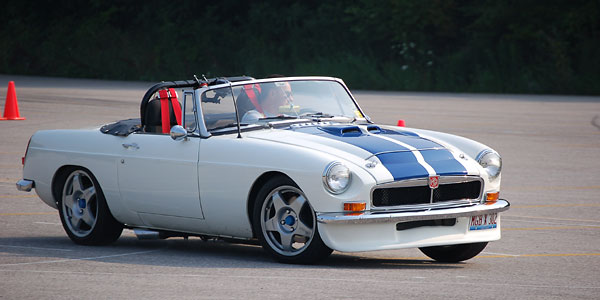 Pete Mantell was cursed by electronic ignition demons, but still managed to deliver some very quick times.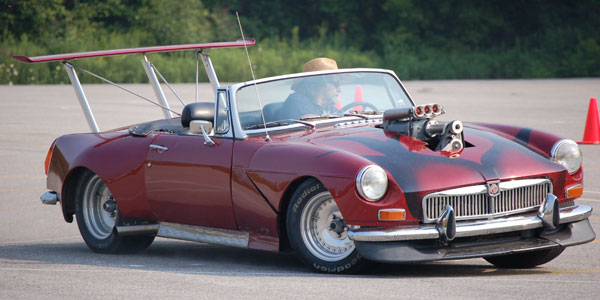 From what I heard, Jim Blackwood's supercharged 1971 MGB provided the most thrilling joy rides.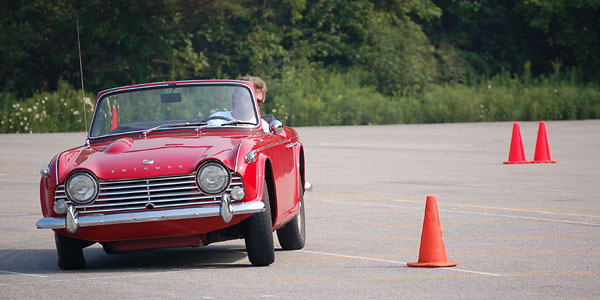 Dan Blackwood's handsome TR4A looks to be an excellent candidate for an engine swap - and wider tires!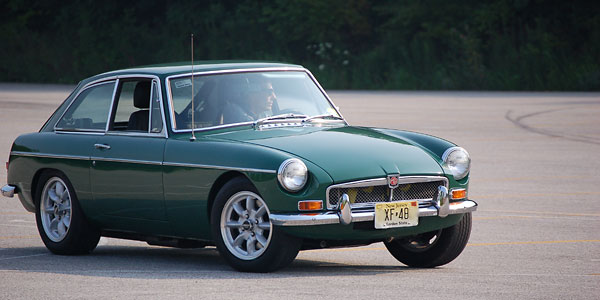 Larry Shimp utilized the course and timing equipment to test and refine suspension settings.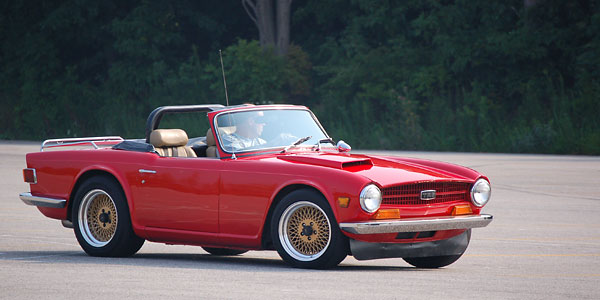 Dale Knapke's turbo-SVO TR6 is very fast. If the course had featured a longer straight-away...


The Weighing of Participant's Cars
Many thanks are due to Pete Mantell for providing accurate scales for the convenience of meet participants!
When reading the "Weight" columns of the table above, please note that the vehicle weights reported here AREN'T ADJUSTED for fuel, etc. They simply show the weights of cars as driven onto the scales. Don't try to read too much into these numbers. ALL of the cars would have been lighter if fuel had been removed from them. Many of the cars were carrying luggage, tool kits, spare parts, or coolers/beverages. Most of the cars were weighed both with and without drivers in them. The with-driver weights are available to anyone who wants to phone me. I omitted these weights from the table because I thought it more interesting to display autocross and weight stats side-by-side.
With those disclaimers out of the way, it's still reasonable to observe that:
1) some of the cars were very impressively lightweight! (Congratulations to Scott, Steve, and Don!)
2) it's wrong to generalize that a Ford V8 powered MGB must necessarily be a heavier or less well-balanced than...
3) two of the four lightest cars weighed were V6 powered MGBs.
4) there's wide variation in static weight balance between cars (front-to-rear and right-to-left too).
Looking over the specs of these cars, which are mostly available elsewhere on this website, this author has observed that many people who uprate their engine feel either tempted or obliged to proportionally uprate other components too. It can take real discipline to keep these cars light, if that's recognized as a priority.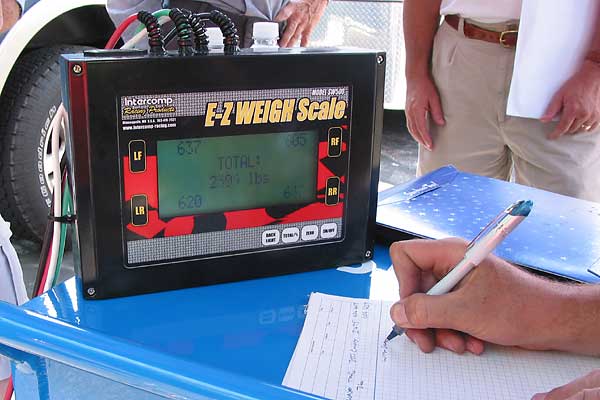 Pete Mantell's Intercomp Racing Products E-Z Weigh Scales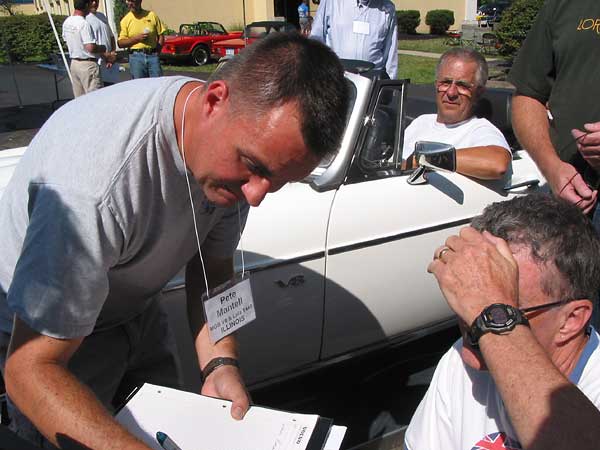 Pete Mantell weighs Kevin Pesant's handsome white 79 MGB V8.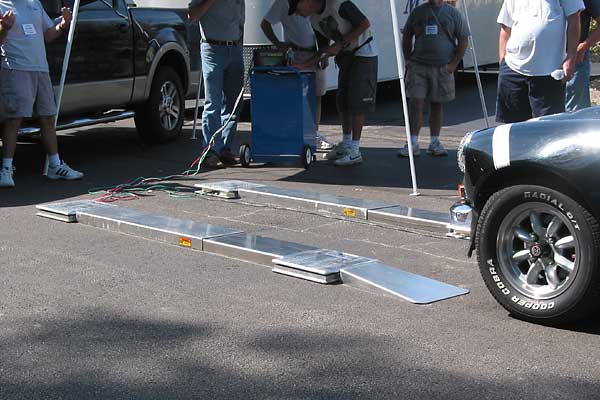 Pulling onto the scales here, Peter Smith's macho black MGB-V8... with Huffaker flares!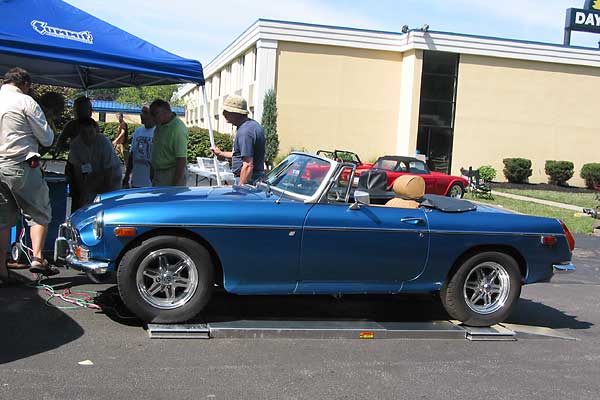 Don Nicholls' shiny blue MGB V6 being weighed. Fellow V6-er Scott Costanzo looks on.
Disclaimer: This page was researched and written by Curtis Jacobson. Views expressed are those of the author, and are provided without warrantee or guarantee. Apply at your own risk.
Photos by Brian Kraus (action shots), Curtis Jacobson (still shots), and Ken Hiebert (photos of Graeme and Katie) for The British V8 Newsletter. All rights reserved.