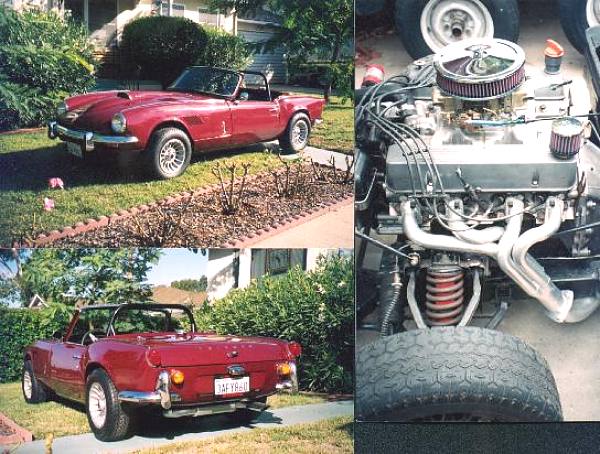 Spitfire, with aluminum Rover 3.5 Liter V8
(as recorded by Dan Masters)
This beautiful car was built and owned by William & Christie of Santa Barbara, Ca., and was used as a daily driver! I say "was" because they have sold the car. The new owner wishes to remain anonymous.
William wrote:
"This is a project car that I built and drive daily. I have been a Triumph enthusiast since 1972, having owned nine GT6's, seven Spitfires, three TR7's, and one TR8. The Spitfires have always appealed to me for their sleek body styling.
"Over the years I have made several attempts to increase the car's horsepower with engine swaps. My first hybrid Spitfire received the 2-litre GT6 engine and the second was fitted with the 2.5-litre TR6 engine. These engine swaps make for very pleasant touring cars. Unfortunately these cast iron 6-cylinder engines made the cars nose heavy and poor candidates for slalom racing.
"This third Triumph Spitfire, that you were kind enough to display, is the most ambitious engine swap that I have attempted. The car's bonnet and frame have been extended eight inches to allow for a Rover 3.5 litre Aluminum V8 engine and 5-speed transmission. The car weighs only 1780 pounds (featherweight) with approximately 200 hp. The power to weight ratio currently matches that of Shelby's 289 AC Cobra. With additional engine modifications I hope to someday have this Spitfire reach the high water mark set by Shelby's 427 AC Cobra.
"This Spitfire 3500 has more bang for the buck than any car I've owned in the past. My wife, Christie, and I raced this car in local slalom events. The car won several trophies for the two of us including Christie's title as the 'Fastest Female British Car Driver' at the 1998 Moss Motors British Car Festival in Solvang, California."