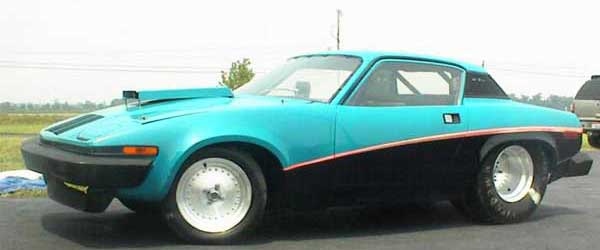 Pro-Street Triumph TR-7 with Chevy 454 Big-Block V8
Editor's Note:
this TR-7 was recently offered in an online auction. The following description and snapshots were sent to us by Joe Yanasak.
I got this turn key race car from a lady about four weeks ago. Her husband had passed away over five years ago and the car just sat. It is one bad-ass TR7. I will try to tell you everything about it to the best of my knowledge.
There is too much to list but I will do my best. This car is custom made from the ground up. It has a full tube chassis and a 454 closed chamber cast-iron-heads motor. Not sure if it is square or oval ported. Electric fuel pump: I just put a 1000cfm Holley on it and the other 850 comes with it also. Ford nine inch, 4-link, 2-speed glide. Holley intake. Not sure of the gears. I was told by her that it ran 9.20's in the quarter mile. On nitrous it ran low 8's. She sold the nitrous bottle but the straps are still in the trunk and also I have the nitrous plate. I took it off. It has great oil pressure and runs abut 170 degrees.
It would be a killer street car. All the front and rear lights are in the car, just not hooked up. I was going to put it on the street but my wife said I'd kill myself in it, and she is always right so far.
The wheelie bars she sold but the welded brackets are still there. The paint is in good shape except for the little scratch on the left front fender and the spoiler in front is scratched from the trailer he had.
There is a lot of braided lines on it. I just put two new Mickeys on the front rims, from sitting there the tires looked brand new but were dry rotted. The rear slicks look like they still have a few more passes on them. There are no transmission or rear end leaks - dry as a bone. It looks like a Pinto or Mustang rack in the front end. Custom made radiator and electric fan on it. All aluminum interior and all Lexan windshield and windows.